NEW RELEASE: Coming November 2nd (Preorder Available)
NEW RELEASE: Coming November 2nd (Preorder Available)
.
.
.
Ten Western Romance Christmas Novellas by Amazon Bestselling and Award-Winning Authors
Available as a boxed set for a limited time
.
Preorder Price– $0.99
Increasing soon after release– $2.99 List Price
A savings of more than 75% if the books were purchased separately.
.
Bestselling and Award-winning authors bring you ten western romance novellas featuring alpha-cowboys from the past. This boxed set will take you back in time when men were rugged and handsome and the women who loved them courageous and daring.
.

.
.
The Drifter's Proposal
by Kristin Holt
My contribution to the Silver Belles and Stetsons Anthology
Available for preorder, NOW, in Silver Belles and Stetsons, to be released 11-2-15
Will be available for preorder in early October, as a stand alone title, to be released 11-16-15
The Drifter's Proposal is 25,000 words (approximately 100 paperback pages). It's book #4 in the Holidays in Mountain Home series, and like each book this series, it stands alone and may be enjoyed all by itself.
.
.

.
About The Drifter's Proposal
.
Colorado, 1900
.
The baker's man is home for Christmas!
.
A spinster is startled by an overdue mortgage and imminent eviction, mere days before Christmas. Dare she trust a drifter to fight at her side, and invite certain heartbreak when he moves on?
.
"Compelling. Heartwarming. Tender."
~Diane Darcy, USA Today Bestselling Author
.

.
Related Articles
.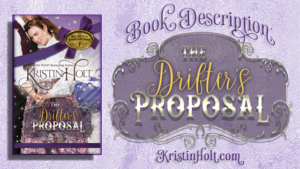 Tome Tender Book Blog REVIEW of The Drifter's Proposal
.
Updated July 2022
Copyright © 2015 Kristin Holt LC