VICTORIAN STRAIGHT-BLADE RAZORS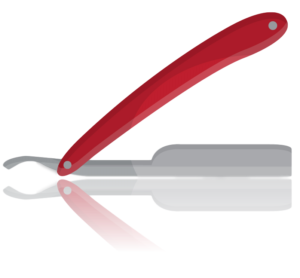 SHAVING WITH A STRAIGHT BLADE

SHAVING SETS

SHAVING MUGS

SHAVING SOAP

RAZOR STROPS (HOW TO SHARPEN A STRAIGHT-BLADE RAZOR)

STROPPING INSTRUCTIONS
Note the first full paragraph in the following listing in the 1895 Montgomery Ward & Co. Catalogue:

VICTORIAN HUMOR: STRAIGHT-BLADE RAZORS
Transcription of the little story from Chetopa Advance of Chetopa, Kansas on April 20, 1870:
An English gentleman entered a barber's shop at Calais, and addressed the barber: "I am delicate about the skin. Shave me without cutting me, and I will give you a sovereign. Cut me, and–here are two loaded pistols!" The barber, nothing daunted, shaved the delicate skin with admirable skill. "Humph!" said the Englishman, "then my pistols did not alarm you?" "No, sir." "And why not?" "If my razor had slipped," said the barber, "I should have finished by cutting your throat." The Englishman disappeared.
.
Coming next!
Patented Safety Razors (and their strop–if you can believe it)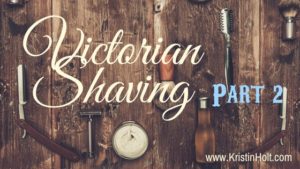 Victorian Shaving, Part 2
.
Freckles, Complexions, Cosmetics, and Victorian Beauty Concoctions False Beauty Spots Old West Bath House Old West Bath Tubs Hair Indicative of Character Victorian Ladies' Hairdressers Street Car Etiquette (1889)–on Sweet Americana Sweethearts Victorian Era Men's Hairstyles Old West Barber Shop Haircuts Old West Barber Shop Victorian Hair Augmentation Victorian Curling Irons L-O-N-G Victorian Hair Mail-Order Catalogs: Timeline & Truth Mail-Order Catalogs in the Old West Stetson's Boss of the Plains vs the Bowler
Copyright © 2016 Kristin Holt, LC
.
Save
Save
Save
Save