Pioneers' Yellow Roses: blooming on the Cartwright kitchen steps
Pioneers' Yellow Roses: blooming on the Cartwright kitchen steps
.
.
As part of Colorado's Centennial Celebration, two Georgetown women, Eva Mackintosh and Geraldine Merrill, designed a stitchery project honoring women. At first, they thought they might do something in macrame, but macrame was too trendy, so they settled on an embroidered and appliqued tapestry. They dubbed it "Women's Gold," for the Harison's yellow roses that the pioneer women brought west with them in their covered wagons.

.

~ The Quilt That Walked to Golden: Women and Quilts in the Mountain West From the Overland Trail to Contemporary Colorado, by Sandra Dallas with Natalie Simonds, pp 105
.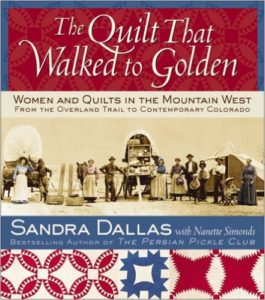 .
In the American West there is no more historic rose than this rose of the Pioneers. In Oregon it is also known as the Logtown rose, appearing as it does, in so many abandoned company towns of the glory days of logging. It makes lovely thickets which are to be found wherever it was left along the Oregon trail, even into the plains. Some hold it is The Yellow Rose of Texas though there is fierce debate about that. At any rate this is a must have for anyone with a corner in their garden and a spot in their heart for history. The bloom is very early, fragrant and exquisite. (The name is correctly spelled with one "r".)

.

Introduced in 1824.

.
.
The cultivar first bloomed at the suburban villa of George Folliott Harison, attorney, between 8th and 9th Avenues on 32nd Street, north of New York City. The site of Harison's villa is now just south of the present General Post Office. The nurseryman William Prince of Long Island took cuttings and marketed the rose in 1830. 'Harison's Yellow' is naturalized at abandoned house sites through the west and is found as a feral rose along the Oregon Trail.

~ Rosa 'Harison's Yellow', Wikipedia

.

Note: Colorado is named "The Centennial State".

.

The Territory of Colorado was organized on February 28, 1861, and on August 1, 1876, U.S. President Ulysses S. Grant signed Proclamation 230 admitting Colorado to the Union as the 38th state. Colorado is nicknamed the "Centennial State" because it became a state in the same year as the centennial of the United States Declaration of Independence.
.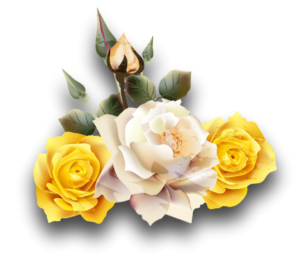 .
This gem surfaced during my research for Pleasance's First Love, part of a 12-book series.

.
But This tidbit (see quote, above) about quilts, specifically in the book The Quilt That Walked to Golden, mentioned the yellow roses Colorado pioneer women brought with them in their covered wagons. I immediately thought of the yellow roses blooming outside the Cartwright family's kitchen door.
.
Those roses weren't there by accident…but I didn't have much in the way of proof, if you will, that yellow roses were a pioneer emblem. I only knew that roses were grown in Colorado, at that altitude, in the 19th century. I'm a little giddy over this recent fortuitous discovery.

.
.
Note: The reference to roses (cemetery, back porch on two occasions) and the fact that this story is set in the summertime (a first for my titles thus far set in Mountain Home, Colorado) is the reason for the rose-inspired line art used in the stand-alone kindle edition and in the paperback edition. See the line art, below, setting apart the scene from within the novella, below.
.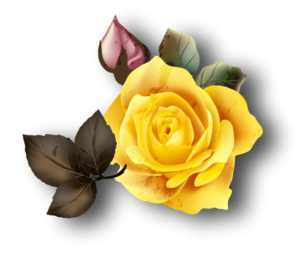 .
Take a Peek Inside Courting Miss Cartwright: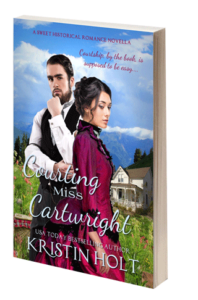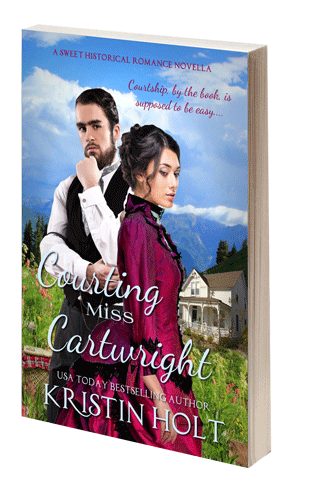 .
Note: This scene takes place after the beginning (read the entire opening scene for free, here), once Felicity has had a night to consider her options and the mess she's found herself in. The previous evening, she'd learned her never-known father was a preacher and had another family. Her half-sister wasn't only a surprise–she'd been mean and Felicity doesn't like that half-sister at all. At this point, Felicity doesn't know what to think…
Come take a walk with me through the summertime streets of Mountain Home, Colorado (the fictitious setting of Home for Christmas, Maybe This Christmas, The Marshal's Surrender, and The Drifter's Proposal–all titles within the Holidays in Mountain Home Series. Courting Miss Cartwright is an un-numbered novella within that series, and book #2 in the Six Brides for Six Gideons Series, following Gideon's Secondhand Bride (book #1).
.

.
Copyright © 2016 Kristin Holt LC
.
Felicity had never been so angry in her entire life. She might not want a monetary inheritance from her father, but she did want answers.
.
The father she'd wondered about, made up stories about, excused upon occasion, waited for, was a preacher?
.
Let him suffer the fires of Hell.
.
He'd sent his attorney to fetch her here, after he was conveniently dead and wouldn't have to face her, hear her list of grievances, nor answer questions.
.
And that Mr. Gideon, who'd offered her money for room and board. He'd looked her squarely in the eye. A decent man. He'd been the diplomat, plying the answer about Cartwright's ordination from Temperance and the attorney.
.
The memory of him extending a dollar to her, urging her to take it, proved his mettle.
.
All wool and a yard wide. Quality. Best there was. Shoulders broad and sturdy enough to bear the weight of the world.
.
She didn't want his money, either.
.
If she knew where to find him, she'd ask him to explain whatever he knew about the man who'd fathered her.
.
Aggravated, she wandered the deeply rutted streets of Mountain Home. Though relatively dry now, the hard-packed roads showed evidence of heavy runoff from snow melting in the impressive Rocky Mountains shielding the valley.
.
The town proved larger and more established than she would have imagined. Nothing like St. Louis, true. But most businesses and residences were frame constructs, many had two stories, and plenty were built of brick. Shops of every kind, industry supporting the mining business, a sawmill, gristmill, liveries and blacksmiths, schools and churches. Two hotels, spaced some distance apart.
.
She wandered past residences with gardens in full bloom, vegetables ripening and fruit trees showing promise of an eventual harvest.
.
She bypassed the Catholic church and noted a white steeple visible between rooftops and eventually found herself a good distance behind her father's white clapboard church, punctuated with stained glass windows.
.
In the cemetery.
.
Late morning sunlight heated the vegetation and birdsong floated on the breeze as she wandered and eventually found an expensive and large headstone identifying Mrs. Annelise Cartwright's grave. A double headstone stood sentinel to the left of Mrs. Cartwright's, and a single, fresh grave to the right bore a simple wooden cross lashed together with twine.
.
He'd died only six days earlier. No doubt, a fancy stone with his name carved into it would mark this place when the stonemason completed it.
.
Nothing but the best for this couple. Had her father married for his wife's money? Was that why Mother had been good enough to compromise but not good enough to wed?
.
Grass had been carefully trimmed about the tombstones. Not all plots were tended and lovingly cared for, but the Cartwrights' were. Bundles of freshly cut yellow roses, tied with blue ribbon, rested on each of the four graves.
.
The double headstone next to Mrs. Cartwright's remembered eleven-year-old twin sons, Radford Dunmore Cartwright and Cedric "Ricky" Dunmore Cartwright. Twin brothers. Beloved sons. Together in life, united in death. They'd perished in 1874, just five years ago, one day apart. The marker bore four lines of poetry expressing the love of parents.
.
Why had she been surprised to find Cartwright had married and raised a family? Meeting his daughter had been a shock. Seeing the resting places of his sons and wife made them real.
.
Cartwright had loved his other children deeply.
.
The realization shouldn't hurt.
.
Pain seared through her breast, lodged in her throat, and stoked her anger.
.
After twenty-five years, nothing about the man should have the power to wound her.
.
She'd never met him. He'd not so much as seen her, at least not that she knew of. And until the attorney fetched her from St. Louis, she hadn't so much as known his name.
Regrets swelled. "Why didn't you contact me while you yet lived? Why?"
.
The breeze teased through the trees at the edges of the graveyard. Birds twittered. But no answer came.
.
In the near distance, a woman approached, carrying a watering can in one hand and a parasol in the other. Blocking the sun from her eyes with a hand, Felicity recognized Temperance headed directly for her, glowing golden and fair by morning's harsh light. The woman evidently took after her mother.
.
Or perhaps their father. How would she know?
.
Felicity had no desire to remain. "I'll go."
.
Temperance's approach faltered, less than fifteen feet away. "Please."
.
Please… what? Please go?
.
With a brief nod, she glanced once more at the earth covering Cedric Cartwright's remains and turned toward the gate.
.
"Please stay." Temperance's voice trembled.
.
Felicity hesitated.
.
"You shouldn't have to leave." Temperance rushed on, "All are welcome to pay respects."
.
No matter how circumspect she kept her behavior, no matter she and Mother had been model citizens of their community, church ladies had never been friendly.
.
Yet Temperance's simple statement was devoid of malice.
.
Felicity met the younger woman's gaze and nodded. She'd stay. A few minutes more, to show she wasn't afraid of this half-sister.
.
Temperance knelt beside Cartwright's grave. She tugged off her pristine white gloves and brushed fingertips over the damp earth–an odd gesture.
.
This unknown sister had lived with him, had his guidance, protection, and support. Jealousy crowded in.
.
Questions lurked. Questions Temperance might answer–if she dared ask.
.
"I planted wildflowers." Temperance blotted her fingers on the grass. "A carpet of blossoms will return each year near the anniversary of his death."
.
A nice sentiment. She would have nodded, but Temperance hadn't glanced up. She tipped her watering can, tending the wildflower seeds.
.
Heat from the midday sun burned through Felicity's clothing. Though ample trees had been planted a decade or more ago by settlers, little shade could be found at this hour. Her empty stomach churned. Supper would be served at six o'clock at the boarding house. She'd survive until then.
.
"You look like him." Temperance rose, pulled gently at a chain about her neck and withdrew a golden locket from within her bodice. A fine piece of jewelry that must've cost a pretty penny. She slipped a thumbnail between the halves of the locket. Inside, two miniatures.
.
Felicity couldn't help herself. She moved close enough to see the photographs. The scent of roses, soap, and clothing dried in the sunshine melded, lingering about Temperance.
.
But Felicity's attention riveted on the likenesses within the locket. A man–supposedly the face of Cedric Cartwright–on the left, and a fair-haired woman on the right.
.
Young, both of them, vibrant in youth. Probably wedding portraits.
.
Felicity's gut cramped, even as she took in every feature of her father's face. Recognition stirred, familiar, like looking in a mirror.
.
Cedric Cartwright had been handsome. Square jaw, high cheekbones, medium-toned hair, probably brown, and clear, light eyes. Good humor lurked about his proper unsmiling mouth and sparkled in his eyes.
.
No wonder Mother had fancied herself in love.
.
Drawn to the other image, Felicity examined the face of the woman who'd won Cedric Cartwright's heart. The woman he'd married, shared his life with, raised a family of daughter and sons.
.
All he'd denied Mother.
.
Emotion engulfed her. She pressed a hand over her mouth. She would not shed tears over this man.
.
Slowly, as if afraid to move too quickly, Temperance closed her locket and let it fall against her bosom. Her hand came to rest on Felicity's back.
.
Warm. Soothing. Gentle.
.
Distressing.
.
A sob threatened escape.
.
With long strides, Felicity hurried beyond the cemetery gate and onto the path before the tears fell.
.
Copyright © 2016 Kristin Holt LC
.

.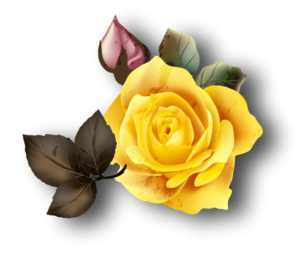 .
Mrs. Cartwright's yellow roses, blooming next to the kitchen door porch show up in two other scenes–first, when Temperance arrives home with Rocky after the disastrous meeting in W.W. Stuart's law office, and second, when Felicity is on that very porch with Rocky near the ending of the book. But I don't want to spoil that discovery for you. I invite you to read the book yourself.
.
Meanwhile, this isn't the only scene I've shared with readers. Here are links to the entire opening scene (free!) and half of a scene in the latter half of the book involving a true-to-history voice trumpet (19th century megaphone) and a picnic basket worth an obscene dollar amount.
.
Note: I shared these scenes when Courting Miss Cartwright was newly published within the bestselling western historical romance anthology, Cowboys & Calico, which was available from 7-30-16 through 10-31-16 and is no longer for sale.
.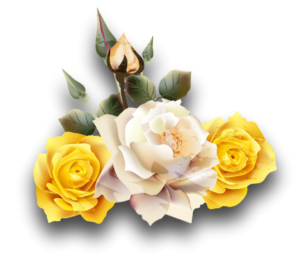 .
.
.
Related Articles
.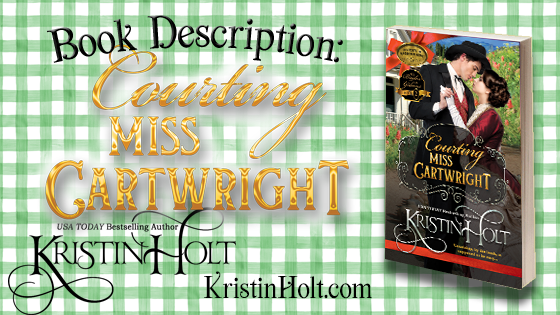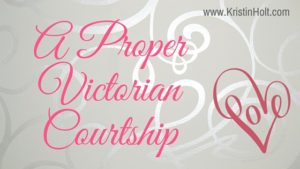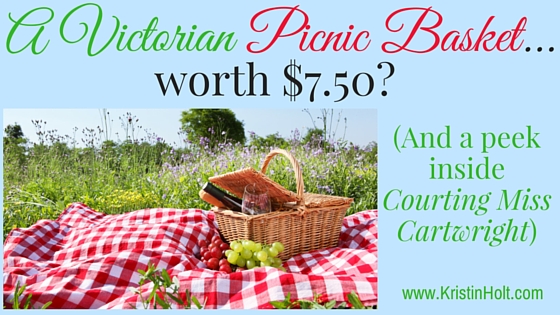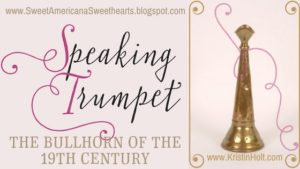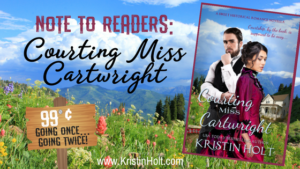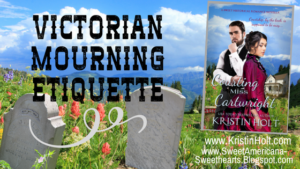 .
Updated March 2022
Copyright © 2016 Kristin Holt LC
Pioneers' Yellow Roses: blooming on the Cartwright kitchen steps Pioneers' Yellow Roses: blooming on the Cartwright kitchen steps

Save