.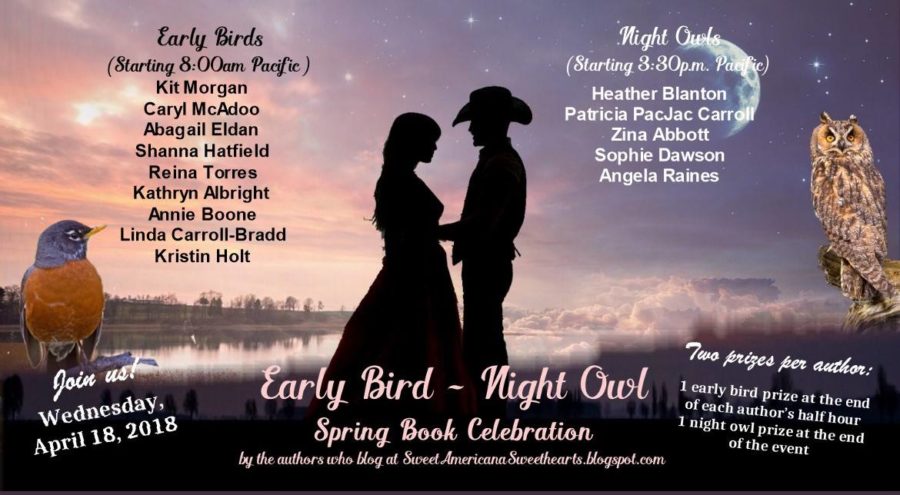 WEDNESDAY, APRIL 18, 2018
(7 AM – 8 PM PDT)
Events like this are the BEST! Attend from wherever you are in the world, wherever you have an internet connection.
.
PLEASE RSVP. This serves TWO PURPOSES:
1) makes it easy for you to find the event on the day of the party!
2) allows you to actually participate (FB has changed their magic about who's allowed to post, where). You'll definitely want to post!
.
TWO PRIZES from every author! An "Early Bird" Prize awarded at the end of each author's half hour, and 1 night owl prize awarded (from each author) at the end of the event.
Come have fun with:
Kit Morgan * Caryl McAdoo * Agagail Eldan * Shanna Hatfield * Reina Torres * Kathryn Albright * Annie Boone * Linda Carroll-Bradd * Kristin Holt
My half-hour begins at 1:00 Mountain Time (= 3:00 EST, 2:00 Central, and 12:00 noon Pacific)
Save The Date:
First United Methodist Church Craft Bazaar
Address: 1339 400 N., Marriott-Slaterville, UT 84404
Friday, October 26, 2018 / 1:00 PM – 6:00 PM
Saturday, October 27, 2018 / 9:00 AM – 4:00 PM
You're invited! (Especially if you're in the "local" crowd!) I'll have all my paperback titles (including the newest!) available for sale at discounted prices. Autographed, Personalized, or plain, it's up to you. Much more information to come.
Copyright © 2018 Kristin Holt LC