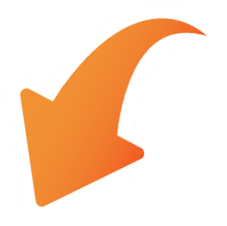 Right now, this list runs right off the bottom of the page… so please scroll down! I have several books to be released in upcoming months.
---
 ~ Coming Soon! ~
in Kindle and paperback editions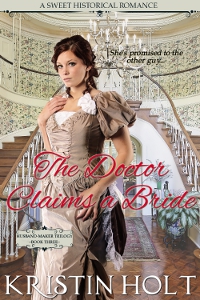 THE DOCTOR CLAIMS A BRIDE
former tentative title: FINALLY A BRIDE
A Sweet Historical Romance (Rated PG)
The Husband-Maker Trilogy, Book 3
[Note: Each book in this trilogy stands alone. While connections between books contribute to reading enjoyment, it is not necessary to read them in order.]
She's promised to the other guy…
California 1896
Lillian knows exactly what she wants—and her decade-long "understanding" with the preacher's son proves it.  She'll marry Andrew, her childhood sweetheart…eventually. Everyone knows it's only a matter of time until he puts a ring on her finger and they set a date.
But The Three Husband-Makers—Andrew's father and his cohorts—have grown mighty impatient and determine to shove Andrew off his patootie. They have successfully seen two other sons safely wed, so they turn their attentions firmly to Andrew and Lillian.
Their plan to tip the scale begins with encouraging the handsome young doctor to court Lillian—just enough to show Andrew what he might lose if he doesn't act.  But the best-laid plans spiral out of control and before they know it, Doc Flint Maddox is vying for Lillian's hand.  Prior to their intervention, they believed Lillian's commitment unshakable…so why is she smiling at Maddox like a woman in love?
The Three realize their meddling may have gone too far this time.  How will they salvage Andrew's future happiness with Lillian?
Copyright © 2014, 2015 Kristin Holt, LC
---
~ Coming Soon ~
Kindle Edition
The Husband-Maker Trilogy Boxed Set
An Omnibus Featuring:
The Menace Takes a Bride
The Cowboy Steals a Bride
The Doctor Claims a Bride
Copyright © 2014, 2015 Kristin Holt, LC
---
~ Coming Soon ~
The story began with
The Bride Lottery
Prosperity's Mail Order Brides Series
check back for updates…
But for now, I can give away a few hints:
Fans have asked for Hannah's story, Caroline's story, and more about the brides who arrived and how they finessed their miner husbands into shape.

Expect at least 2 novellas (perhaps novels) to go with THE BRIDE LOTTERY….

Each book will stand alone, though connections between stories will make it more enjoyable to read them in order, readers could pick up any one book and understand the setting and circumstances. We'll see each couple get their hard-won happily-ever-after.

…and at least one novel to show the plans put into place at the conclusion of THE BRIDE LOTTERY…and the upcoming arrival of more brides.

If YOU enjoyed THE BRIDE LOTTERY, click on the CONTACT tab and drop me a line. I'd love to hear what YOU'RE looking forward to in upcoming books.
Copyright © 2014, 2015 Kristin Holt, LC
Exclusive Content for Newsletter Subscribers