5 Stars for THE COWBOY STEALS A BRIDE!
5 Stars for THE COWBOY STEALS A BRIDE!
.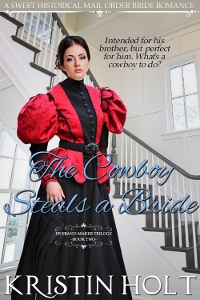 .
5.0 out of 5 stars
Intriguing Romance (Posted May 20, 2014)
by Carol Goode
.
I loved this book! Kristin has a great style of writing incorporating facts and details from the past to give the story clarity and believability. I loved her characters. She writes as if she were standing in the shoes of each person and can really feel their emotions and think their thoughts. Kristin writes the way I have always wanted to write. She has mastered the art of weaving a story through many plots and sub-plots and leaving no loose ends dangling. I started with this book, though it is the second in her series of three. The book stood fine on its own, but I loved how little things made more sense when I then read her first book in the series. I anxiously await the third book.

When I was a young teenager, my grandmother had a shelf of romance paperbacks in the summer kitchen of her home. I read them voraciously always putting myself in the place of the heroine of the story. This book is better than all those I read so long ago. I give it my highest praise! I hope Kristin Holt will continue to write and fill my bookshelf with beautiful literature that I can pass on to my grand-daughters.
.
5 Stars for THE COWBOY STEALS A BRIDE!