Victorian-American Wedding Anniversaries
.
Ah, wedding anniversaries! Nothing implies conjugal felicity quite as much as putting on a big party and inviting one's friends and associates to celebrate with the happy couple.
In fact, those Victorian-American Wedding Anniversary Parties deserved a blog article all their own. That article is LIVE right now, over on Sweet Americana Sweethearts, where I'm a contributing author. Please check it out as a companion to this post.

.
Definition
.
First of all, allow me to explain that "anniversary" doesn't fully mean today what it did in our Victorian-American era.
Anniversary today, for those in the United States at least, means 'wedding anniversary.' Of course people use "it's our anniversary" for those (married or not) who count back to that special day they became a couple. But we don't use "anniversary" to cover everything people once did. For example, Victorian-era American newspapers refer to "anniversary of her birth" and "birth anniversary," as well as anniversaries in context of business relationships and years of service.
.
Turn of Phrase
.
Additionally, note the turn of phrase Wedding Anniversary and Anniversary Wedding.
Did Victorian-era Americans marry again at their Anniversary Weddings? Did they "renew their vows" as has been popular in recent decades in the United States?
[Please pay attention as you read these vintage newspaper clippings. If you have an answer to this question (how do these different phrases differ? What do they mean) please scroll down and reply!]
.
One is for Paper, Two is for Straw…
.
.
Another example follows. Similar, but not quite identical.
.
.
So Few Diamonds
.
Notice the statistics quoted in this following article original to the New York Evening Post. (It's absolutely worth the effort to decipher this 152-year old newspaper article.) Amazingly enough in the late 1860s, 1 diamond wedding anniversary (75 years) occurs, on average, once per year in Gimbrede (a town?).
.
.
Made from… what?
.
Announcements themselves went through a rage of "format." While Calico Ball invitations were stylishly printed upon calico fabric (rather than card stock or paper), Wedding Anniversary invitations went through a period of being stylishly printed upon material representing that anniversary.
.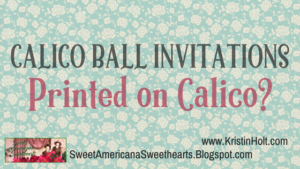 .
.
Etiquette
.
Invitations
.
.
Everything Else
.
Including invitations.
The following "lesson in etiquette," specific to Wedding Anniversaries, provides good common sense for all things Wedding Anniversaries (or Anniversary Weddings). Note that this "correctness" includes topics like: invitations (contents) and format (paper and type of ink), presents for the host and hostess, ideas for decorations (paper wedding), gift ideas, and more. Just when you thought you knew all there might be to know about Victorian-American Wedding Anniversaries.

.
.
Ignored by Some
.
.
A Heavy Dose of Sarcasm
.
Are you ready to laugh? Victorian Americans, just like folks today, loved humor. They might've been straight-laced (tightly laced?) and a bit prudish about language, but they did love a good laugh. Lock Melone, the attributed author, claims to have never celebrated a wedding anniversary (as he's never had one– a wedding anniversary, that is). But in pondering this subject, decided, tongue-in-cheek, why each anniversary requires its assigned "gift."

.
.
I hope you enjoyed this 1884 view of Victorian America's Wedding Anniversaries and sense of humor twined into one. Different than today's, I'll give you that. Amusing just the same, I hope.
.
One Final Example to Feast Your Imagination Upon
.
Picture this perfect setting for a Victorian Wedding Anniversary, as described in this final vintage newspaper clipping:
.
Can you imagine yourself there? As one of the guests? Have you tried visualizing the gifts as displayed by the host and hostess?
Please scroll down and leave your thoughts and ideas. "Conversation" is the best part!
.
Related Articles
.
This closely related post, Victorian-American Wedding Anniversary Parties is LIVE, right now, on SweetAmericanaSweethearts (blogspot). Don't forget to check it out!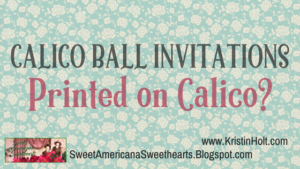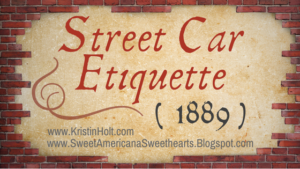 .
Copyright © 2020 Kristin Holt LC