Coming November 1st…
Coming November 1st…
.
On Thursday, October 15th, the Pioneer Hearts Facebook Group made an intriguing announcement. This multi-author fan group is all about readers of western historical romance (of all heat/sensuality levels), and as of today is 1,449 members strong (only about 160 of which are authors).

.
.
 What's unprecedented?
Publishing history… how?
What are they doing?
What are YOU doing?
.
On November 1st, the "Sooper Seekrit" project some Pioneer Hearts authors have been working on (for months!) will be revealed, at a Facebook Event (Party!). Mark this one on your calendars. You're not only invited, you'll want to BE there!
.
.
You are invited! To RSVP, and to attend the Facebook party itself, click here: https://www.facebook.com/events/1663311033925580/
.
What: Sooper Seekrit Project Reveal Party!
.
When: Sunday, November 1, 7PM to 9PM (EST)
.
Where: ON that Facebook page link  TIP: Save the Link! (digitally– like copy-and-paste and stick it in a Word doc on your desktop, add it to your 'favorites' or 'bookmark' it, write on a Post-It Note in good old-fashioned handwriting)
.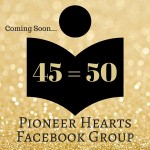 .
Why: Because 'we' have all the answers to your questions, beginning with WHY is 45 = 50? and ending with the project reveal itself… you'll want to know about this project reveal that truly is unprecedented in publishing history. (No joke!) And… What's a party without party favors?
.
How: Figure out what time it is at YOUR place when it's 7:00 PM EST (Eastern Standard Time). Mark your calendar. Set a timer on your iPhone. Write yourself a Post-It Note and stick it to your computer screen and put another on the fridge. Log into Facebook, and go to the event page and participate!
.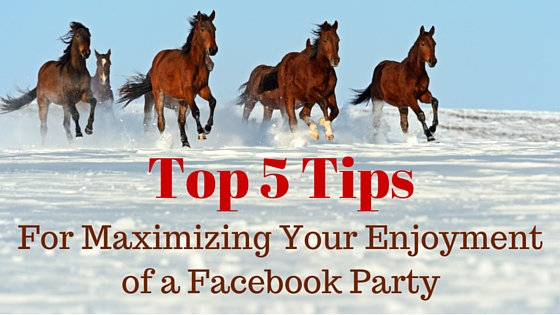 .
1.  Click "Refresh" often during the party. New posts show up all the time, and Facebook won't stay caught up and 'auto-refresh' often enough. To refresh, click on the circle-arrow on your web address (url) window.

.
.
2. Watch for new posts to pop up. Scroll up. You'll see new threads (new images with a bunch of comments showing up below) appear frequently. Conversations may continue on a thread that's been going for a while, and conversation will pick up fresh somewhere else. Scroll down and see what new conversation has taken place on a post lower down. Keep your eyes open.
.
3. Read other peoples' comments… it's like attending a cocktail party and enjoying what other people have to say! One great way to "nod" and "smile" at each other is to acknowledge speakers by LIKING their posts. Often, much of the fun comes from the new people you meet, interacting and visiting and spending time with like-minded people.
.
.
4. Plan to arrive on time (or a little early)… just like you would in the Real World. Facebook gatherings tend to begin right on time, and begin with a bang. You'll want to be there! No harm in arriving early as there's no doorbell to ring and the hostess isn't actually still setting out the canapes. But if you have to sneak in late, no worries! Come on in and make yourself comfortable. Prepare yourself with a drink at hand, a bite to eat if needed, and put your feet up.
.
5. Stick around for as much of the party as you can! Very often hostesses rotate, and you'll have exposure and time with different people as the party progresses. Prizes are frequently given out at intervals, and you won't want to miss out on news, developments, give-aways, and various chances to socialize. If you simply can't stay long, no worries. No need to even say goodbye (no one will hear the door shut behind you). That's one of the beautiful things about FB. Drop in, stay as long as you can, and go when you need to.
.
.
I'll definitely be at the Sooper Seekrit Project Facebook Event, and can't wait to tell you about my involvement! Please consider yourself personally invited. Please come. It'll be a blast!
.
Related Articles
.
.
Updated May 2022
Copyright © 2015 Kristin Holt
Coming November 1st…

Save