Holiday Gifts for Readers on your List
Holiday Gifts for Readers on your List
.
This time of year, we're all busy with holiday gift shopping.
.
My Christmas list seems to be miles long. One of my best strategies in buying a gift for those closest to me is to identify a category of what that individual likes to do or how I describe them. Tim is a golfer. Natalie is a movie buff. Jane loves to read.
.
Last post I shared insights and comparisons of subscription services for readers, allowing the recipient to read, read, read, all for one affordable gift price.
.
Friends and family on your gift list don't need to own a kindle to enjoy a kindle book. It's simple to download the free app and read it on their mobile device. See the link available on virtually ALL of my website pages (check the bottom footer) about the kindle reading app. Note: the email Amazon sends to your recipient contains info about how to easily obtain the app.
.
.
What about giving ONE book?
.
Yes. Amazon makes giving eBooks– any specific eBook of your choice– a snap. All you need is the recipient's email address. You get to choose what day they'll receive notice (and the book itself), whether on Christmas Eve, the first night of Hanukkah, their birthday, or NOW.
.
It's EASY.
.
How?
.
1. Find the book on Amazon. Simply type the author or title name in the Amazon search window. In my example, below, I chose my title The Cowboy Steals a Bride. If my teenager told me she wanted to read Winter by Marissa Meyer, I'd do the same thing. Pop the key word and/or author name in the Amazon.com search bar. Click on the magnifying glass symbol on the far right-hand side of the field. Voila !
.
[Note: the images are current as of posting date. Occasionally, Amazon switches things up and it's possible my snipped images will become out of date.]

.
.
2. Once you're on the item description page…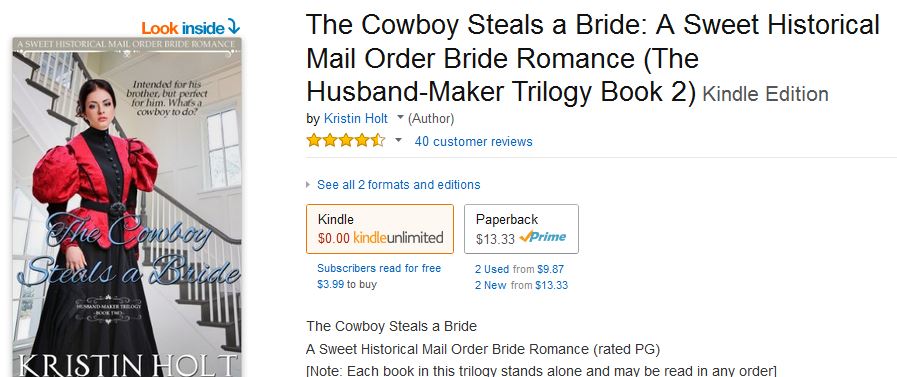 …note the far right-hand side, (below), where the TOP box contains Print List Price, Kindle Price, whether or not the title is available with kindleunlimited (K.U.) subscription (see previous blog article), and the ability to BUY, Read for Free (with K.U.), and choose which of your devices you want the book sent to. As this example is about purchasing for someone else, skip right past this first box.
.
.
…and skip past the second gray box  (offers "send a free sample", usually the first 10% or so, and to which device)… because we're looking for the first clickable button (pale gray) immediately beneath, labeled "Give as a Gift". See it immediately above bottom line "Add to List"? Click on "Give as a Gift". You are able to buy a kindle edition for someone else even if you've already bought yourself a copy.
.
3. When on the Complete your gift purchase page (see example, below), you can have Amazon email the gift directly to your recipient (you provide the email address) and the date when you want it sent. Note the ease in ordering in advance of your mother's birthday or in plenty of time before the holiday. The alternative option (note the blue dot "checking" one of two options, below) is to have Amazon email the gift to you. You can then forward the gift email directly to your recipient with a personal message OR print it out and put it in the receiver's Christmas stocking or send via the postal service.
.
Note: You can personalize your message, as emailed to the recipient, directly from Amazon. See the lower half of the image, below. You're limited to 300 characters, but I've had no difficulty making a quick note work. If you'd like, you can preview the email format your gift recipient will see inside their email from Amazon.
.
.
… and, on the right-hand side of the image, as offered, above, you'll find payment information. See the image below. It's easy to see how the bright blue lines align, top and bottom to illustrate how the two image snips line up. I've blacked out payment info and my billing address, but the rest of it is exactly how the field appears.
.
This is your double-check to ensure you're purchasing the title you want, at the price you expect, that Amazon will charge the credit card you select (some families or individuals have more than one credit card on file). Billing address is connected only to your credit card… it does NOT need to match the recipient. That's all happening by email. (I LOVE the ease of digital books!)
.
.
4.  Final step: Click the yellow Place your order button. You'll not only see immediate 'success' verification, but if you've set it up so Amazon always emails you receipts, you'll see an email notification.
.
5.  Another way to tell everything's in order is by visiting your Account information. You'll find this button on the top header of an Amazon web page. Note that it's to the right of the search window (with its magnifying-glass-on-orange-background search button). It looks like this:
.
.
6. CLICK Hello, (your name) Your Account. This brings up a whole page of options. Right at the top, you're looking for Your Orders. It looks like this:
.
.
7. See the gold button: Your Orders… click on it, which takes you to a page that looks like this:
.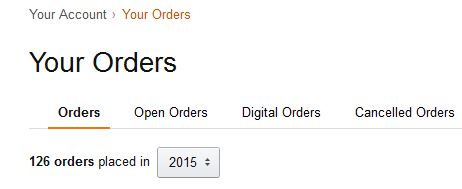 .
… where you need to click on "Digital Orders"… (See the line where "Orders" is currently selected. Skip over Open Orders. See Digital Orders? Click. You'll be directed to a list of your digital orders. If you've just barely bought a gift copy of a kindle book, your order will be right at the top.

.
Note: I didn't actually buy a copy of The Cowboy Steals a Bride (to match the images I've shown you, above). So I found a recent gift copy for a winner at a Facebook Party who won a kindle copy of Silver Belles and Stetsons.
.
This listing, within my Amazon Account information, lets me see some really great stuff. I know how much I paid. I can click on "Order Details" (very  far upper right-hand corner of this image, below) and in my account, it links to an invoice if I need to save a digital one or print it. I can also see it was a gift order (so it's not my personal copy and won't show up on my kindle)… and who the recipient is (I blacked out the winner's name for her privacy)… AND, see verification that she claimed her gift copy!
.

.
Despite my many pictures and a bit long-winded instructions, giving a kindle copy of any book on

Amazon's site

is easy.
.
I've given many, many titles (my own and from other authors) away to friends, family members, winners at Facebook Events, fans, etc.
It's one of the easiest ways I know to buy a simple gift (as little as 99-cents) for a reader.
.
Two more quick tidbits before you go:
.
1. Make sure you read the "fine print" on the bottom of the "recipient's email" and "buy now" page. Two important details are outlined there.
.
2. One of those details: If the recipient doesn't want the exact title you bought for them, they may exchange your gift for an equivalent value Amazon.com gift card. Sometimes the title you chose isn't available in your country (typically does not happen in the United States). One other detail: If YOU have gift card or promotional credit waiting in your account, it automatically applies to your purchase, as does any applicable state and local taxes; some eBooks have sales tax, some do not.
.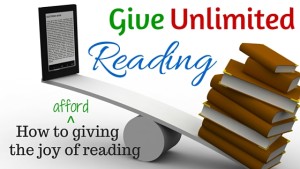 .
Minor updates December 2021
Copyright © 2015 Kristin Holt LC
Holiday Gifts for Readers on your List