Book Description: The Menace Takes a Bride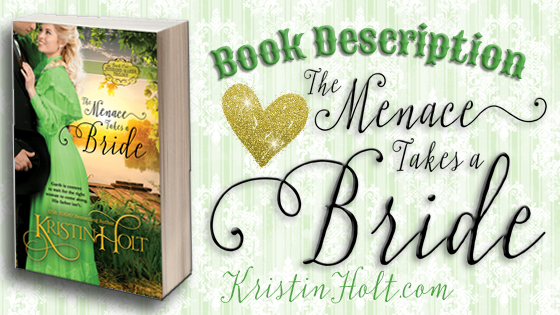 A Sweet Historical Mail-Order Bride Romance (Rated PG)
The Husband-Maker Trilogy, Book 1
[Note: Each book in this trilogy stands alone and may be read in any order.]

Book Description: The Menace Takes a Bride
Garth is content to wait for the right woman to come along.
His father isn't.
Book Description: The Menace Takes a Bride
California 1895

Garth Wakefield may be pushing thirty, but he's not about to settle for just any wife, in spite his father's claim that unmarried men over the age of twenty-five are a menace to society. Garth knows he's anything but a menace; he owns a lucrative business, is an honest and upstanding citizen, and would never dream of misleading any of his female friends.
When it comes to matters of the heart, he wants it all. Passion, enduring love, and happily-ever-after. When Garth's impatient father forges a paper marriage, Garth suddenly finds himself saddled with a bride. Worse, Mitzi has full control of his fortune and business.
While Garth works desperately to free himself, his delightful bride entwines their lives and hearts until he can't bear to see her go. He's found everything he's ever wanted in the most unlikely of people, his own not-completely-legally-wed wife. But can he convince Mitzi to marry him all over again, for love this time, before she learns the marriage is a hoax?
The Menace Takes a Bride is a full-length historical romance of approximately 92,000 words (365 paperback pages).
This is a stand-alone sweet romance, complete with hard-earned happy ending. It is the first book in the Husband-Maker Trilogy.
.
The Menace Takes a Bride is a FREE Read with kindleunlimited.
.
Series: The Husband-Maker Trilogy
.
Related Articles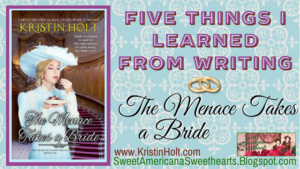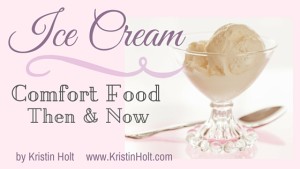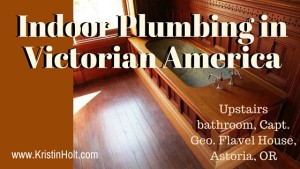 To read about the Benz automobile Mr. Hollis (Helens' millionaire father) would have purchased, after seeing it at the World Exhibition in Chicago (1893), see an article titled The World's First Production Car, the Benz Patent Motor Car Velocipede of 1894. More information about the many details of advancing technology mentioned in The Menace Takes a Bride are contained in the 2017 Edition's "Dear Reader", contained in the back matter. (This letter will be posted on this website very soon, for easy access by those who've purchased the book prior to the 2017 Edition.)
.
For more images used as inspiration, visit the Pinterest Board for The Menace Takes a Bride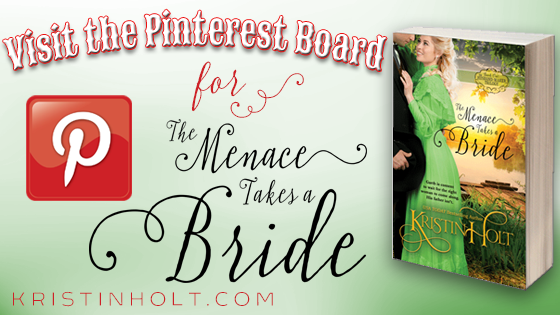 .
New Cover Artwork: The Menace Takes a Bride
More Walk Down Memory Lane
Care to see some even older book covers for this same title?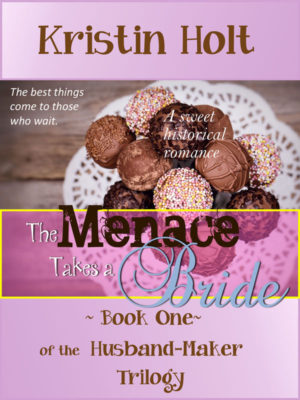 .
Have you read The Menace Takes a Bride?
Would you be so kind as to leave a review on your preferred book review sites? My "One Quick Click" link (image below) takes you to all public review places. If you can think of others, please let me know!
.
Reviews
.
Updated 2017
Copyright © 2013 Kristin Holt LCSave