Series Description: Prosperity's Mail-Order Brides

.



Series Description: Prosperity's Mail-Order Brides

.
Prosperity, Colorado is a mining town in the Rocky Mountains. The miners want wives for the purpose of stabilizing the community. Because the wilds of Colorado provide no prospects, the men pool their resources. Hartford Bridal Agency contracts to ship brides enough for all of 'em.
Finally the bride's train arrives in the spring of 1881.
A mere fourteen ladies–plus an extra–get off the train.
The result?
Forty miners.
Fifteen brides.
What could go wrong?
.
Trouble in Town
.
Trouble certainly ensued. Evelyn (The Bride Lottery, Prosperity's Mail Order Brides, Book 1) discovered a whole lot can go wrong.
Mining camps aren't the safest of places. Men too long without the company of ladies tend to lose all sense of propriety. In contrast, Evelyn finds she can't discount her handsome protector Sam Kochler. He proves himself to be a decent and upstanding suitor. Above all, he's precisely who her battered heart and unborn child need.
A dozen marriages result from those first fifteen ladies' arrival Prosperity. Hence, upcoming series books will feature other couples' romances. Each novel (or novella) will conclude with a strong HEA (happily ever after). While Sam and Evelyn's happily ever after resolves in book 1, we'll enjoy them as secondary characters throughout the series. Seems like they'll experience more trouble, but we know they'll weather it together.

.
What about the Bachelors?
.
That leaves the rest of the bachelor miners who've long forgot any citified manners they might have had. Evelyn devises has a plan to whip the miners into marriageable shape. Finishing school polishes young ladies of wealthy, fashionable birth. Therefore her Bachelor Finishing School can put a shine on Prosperity's miners.
So Evelyn sets about training the remaining twenty-eight miners. Because she has a mere two months until more brides arrive, she's doubly determined to see the men presentable. Each and every soon-to-arrive bride deserves the best husband possible. Even more deserving, she discovers, are the miners. What if the second batch of brides proves lacking?

.
The Stories Continue…
.
A second private rail car delivery of twenty young ladies arrives in Propriety. The remaining bachelors are significantly better prepared to woo themselves a bride. They've studied etiquette, practiced, and rehearsed their much-improved courting skills.
Yet it seems like men have a way of forgetting their lessons when faced with steep competition.
.
 Twenty-eight lonely miners.
Twenty mail order brides.
At minimum, eight are gonna be mighty disappointed.
.
.
Titles Within
.
.
2: The Silver-Strike Bride (forthcoming)
3: The Luckiest Bride (forthcoming)
.
You're invited to visit each book's page (Book 1 through Book 3 and their titles in blue are active links) for lots of specific information.
Want to see which characters from The Bride Lottery will have their own story?

Curious about which tales occur with the first batch of brides verses the second?

Wonder what historical details pertain to each novel (or novella)?

Do you enjoy the books' Pinterest Boards?

Click through and read all about each story.

Questions are welcome! I enjoy hearing from readers and welcome suggestions, notes, feedback, compliments, and "what about _____" questions.
.
Note: As with each of my series, Prosperity's Mail-Order Brides is a series of loosely connected stories that may be enjoyed in any order. Enjoyment might be increased by reading this series in order, but this is not required.
.
A Pinterest Board
.
.
Related Articles
.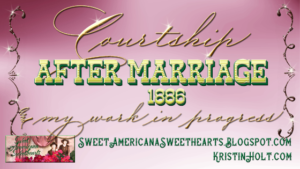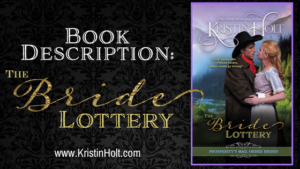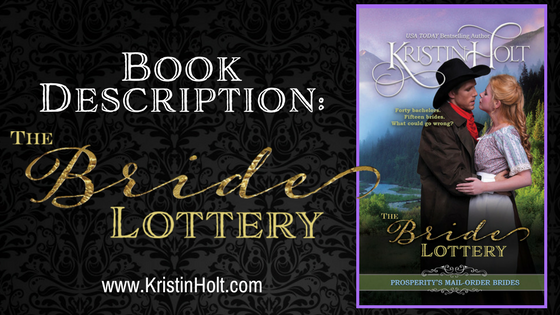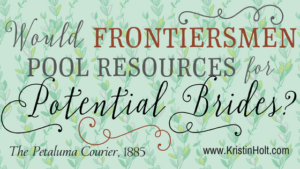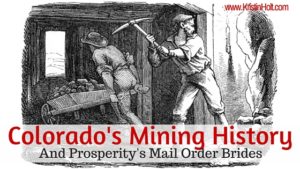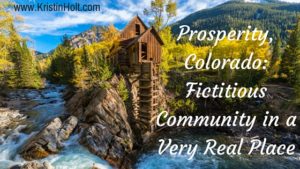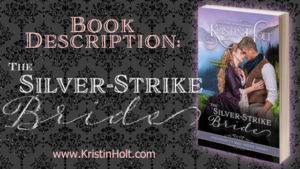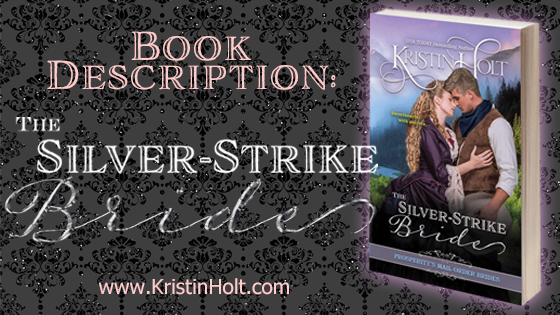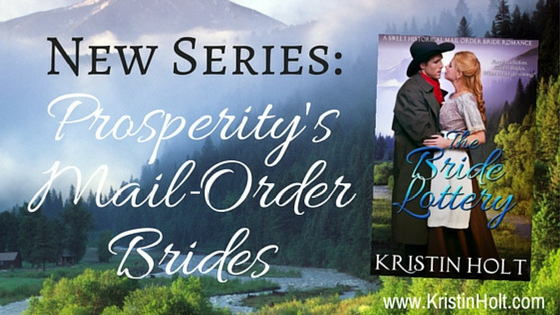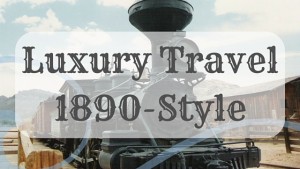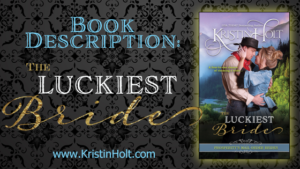 .
Stories for Sale
.
.
Updated June 2022
Copyright © 2015 by Kristin Holt LC