Colorado's Mining History, and Prosperity's Mail Order Brides
Colorado's Mining History, and Prosperity's Mail Order Brides
.
Mining plays a significant role in Colorado's history. Visitors today may take online guided tours of fifteen ghost towns and mining camps, all of which played a part in the mining boom of the late 19th century.
Colorado's mountains were mined in the 19th and 20th centuries for coal, gold, silver, molybdenum, lead, copper, and zinc. The Colorado Mineral Belt stretches from Boulder to the Northeast to Cortez and Durango in the Southwest of Colorado, essentially following the line of the Rocky Mountains. Leadville, along with Aspen and Gunnison are in the relative center of that region. For specific information, see Wikipedia.
The district is credited with producing 2.9 million troy ounces of gold, 240 million troy ounces of silver, 1 million short tons of lead, 785 thousand short tons of zinc, and 53 thousand short tons of copper.
.
.
Abe Lee discovered gold in Cloud City in 1860, just over 10 years after the historically significant California gold rush. The impact of the strike in California had such impact that miners who participated in the Pike's Peak Gold Rush from 1858 to 1861 were called Forty-Niners.
Cloud City incorporated and renamed itself Leadville–the Source of Silver–in 1878. Another source disagrees stating Leadville's previous name had been Slabtown, named by Horace Austin Warner Tabor and August Meyer (silver mine owners), but when it started becoming wealthy, they changed the name (to Leadville). I imagine if I'd kept digging, I'd have come to discover these two sources were both accurate, just not complete. Perhaps one had been a camp that preceded the other, or maybe they were neighboring camps that grew together as buildings sprang up and more and more miners settled there. Ultimately, it didn't matter to me. The historical accounts gave me fodder for my fictional town, and that's as much research as I needed to do. I imagine someone, a historian in a present-day Leadville museum, would know the details.
.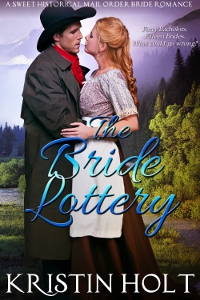 .
The Bride Lottery takes place in 1881, thus Leadville had been incorporated and is properly referred to by this name.
The silver Boom began in 1877, ensuring Leadville, CO a place on the map. Several men became extraordinarily wealthy. The mining district has been called "the richest mining district of the American West".
.
Leadville, Colorado
.
A great deal of history in the city of Leadville and the surrounding areas has been preserved. Original Victorian-era homes and storefronts fill an astounding seventy city blocks within Leadville city limits. An additional 20 city blocks are the original mining district.
Leadville became a notable city, with numerous visiting dignitaries, celebrities, and well-known performers. Horace Tabor, a well-known citizen of the time, built a fine theater known as the Tabor Opera House. Harry Houdini, John Philip Sousa, and Oscar Wilde all performed on its stage. Other notables like Buffalo Bill, Old West lawman Mart Duggan, and Doc Holiday all resided, lived in, or visited Leadville.
Leadville had a colorful, fantastical history, and I needed Prosperity to have access to all the amenities in nearby Leadville (railroad stop, churches and a minister, markets) but be far enough up a navigable canyon to allow for a daily stage coach round-trip but not contribute too much influence.
I had the privilege of glossing over the mining. Yes, mining was significant reason for these lonely men to find themselves in a stripling community without benefit of young ladies to court and marry. After all, I didn't want to write historical fiction all about mining. I wanted to write about the lonely men and their credible reason for needing a passel of brides shipped in from the east. If Prosperity had been a five minute ride on horseback from Leadville, they may have found daughters of miners, businessmen, and merchants in that thriving city.
That's the beauty of writing fiction. Focus in the historical facts of the era, blend fact with fiction, and ignore the elements that aren't a focal point. Note: not one scene within The Bride Lottery is all about a man actually working his claim. After all, Sam was a merchant, not a miner. Future books will likely need to have a great deal more actual mining, as most of the men on the mountain mined for a living.
We'll see how that goes, and what elements become a key player in the rest of the Prosperity's Mail Order Bride series.
.
.
Related Articles
.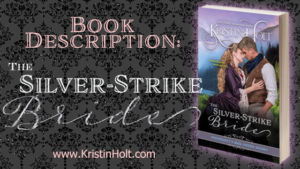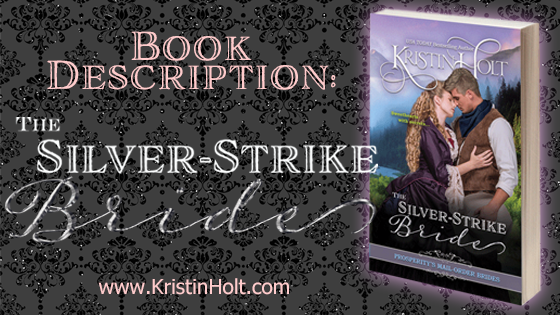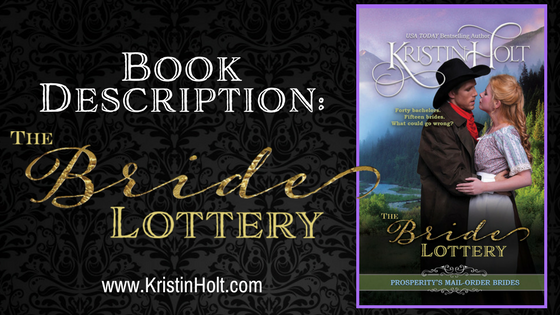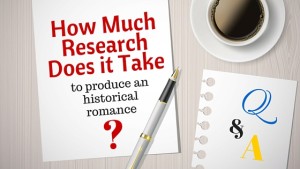 .
Updated December 2021
Copyright © 2015 Kristin Holt LC
Colorado's Mining History, and Prosperity's Mail Order Brides Colorado's Mining History, and Prosperity's Mail Order Brides