ANNOUNCEMENT: Sweet Americana Sweethearts
ANNOUNCEMENT: Sweet Americana Sweethearts
.
.
I'm delighted to announce my affiliation with the Sweet Americana Sweethearts Blog. It features authors of Sweet & Clean romances set throughout North America between the years of 1820 and 1920.
.
Current list of participating authors include: Angela Raines, Shanna Hatfield, Zina Abbott, Kristin Holt, Linda Carroll-Bradd, P.A. Estelle, Leah Atwood, Amelia C. Adams, and Kathryn Albright.
.
Please bookmark the Sweet Americana Sweethearts blog site and JOIN! I'd love to see you there, interact with you in the responses, and share a common love of American history and the fictional stories set there.
.
Per our monthly author schedule, it's my turn every month on the first Friday.
.\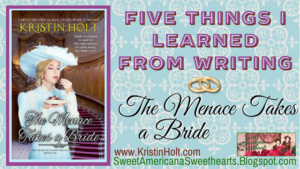 .
My first post on this site is LIVE as of last Friday, August 7th: Five Things I Learned From Writing THE MENACE TAKES A BRIDE. This post includes short snippets from the book, an explanation about why he (Garth) is a 'menace', and the top five Things I learned From Writing this 92,000 word book. It's the first book in The Husband-Maker Trilogy. The second is available and the third full-length romantic comedy, sweet western historical romance is soon to come.

.
I'm up next on Friday, September 4th. Can't say yet what my post will be about… but I'm planning on sharing significant reveals about a new release. Stay tuned! Please plan on joining the Sweet Americana Sweethearts and checking back here (www.KristinHolt.com), my home on the web, often. Of late, I've been posting fresh articles about many different 19th Century American West topics, three times a week.
.
Related Links
.
.
Updated July 2022
Copyright © 2015 Kristin Holt, LC