Victorian-American New Year's Etiquette
Victorian-American New Year's Etiquette
Our Victorian-era American ancestors celebrated New Year's in style. Sumptuous dinners at home. Luxurious bills of fare in restaurants. Formal balls. Theater productions. And they paid or received social calls on New Year's day. Nineteenth century society loved to celebrate.
Folks held fast to social expectations. That meant good behavior and good behavior equaled decorum. Decorum ensured adherence to rules for gentlemanly and ladylike comportment.
Victorian-American New Year's Calls
New Year's Calling notices announced ladies receiving friends at home. The Evening News of Emporia, Kansas published this list on December 31, 1880. The population of Emporia, Kansas in 1880: 4,631. A tiny hamlet in a rural county, only twenty-three years past settlement. Who knew New Year's day calls would be announced in the paper of a town so small?

Behave Like a New Year's Gentleman
Victorian-American New Year's Etiquette included more than reserving January 1 for social calls (in-person visits). (But yes, many Americans enjoyed telephones and "calling by phone" by the late 19th century.)
Rules abounded for when to call. Others governed how long to stay and whether or not to remove one's hat. Calling cards? Yep–best practices for those as well. Etiquette even determined how conversation unfolded.
The publishing of etiquette rules in the newspaper occurred commonly. Some of these articles originated in populous areas along the Atlantic seaboard. Others began with rural editors. Whether a reprint or plain common sense, social etiquette often appeared in the papers. Including the newspaper in one-horse towns.
The following sampling of Victorian-American New Year's Etiquette was published in The Rock Island Argus of Rock Island, Illinois in 1876. This article began with a similar list of Who's Who in Rock Island. The population of Rock Island, Illinois in 1876 stood between 7,500 and 1,150.

New Year's Etiquette Short List
Gathered from the previous three newspaper images, this particular list of Victorian-American New Year's Etiquette:
Gentlemen call from 9 a.m. until 10 p.m. when all visits cease.

Ladies begin receiving in their parlors by 10 a.m. (If men arrive earlier, they present their card to servants.)

The clergy (and their families) deserve the first call. Clergy are not required to make calls on New Year's day.

Hostesses provide coffee and a buffet–but no liquor.

Friends call upon friends; gentlemen do not introduce strangers…unless…
"First calls, especially neglected ones, may be made on new Year's day, and if friendly relations have been disturbed, either party may offer to resume them by making a New Year's call."
If calls cannot occur on New Year's day (for any reason), New Year's calls may continue through January. Instead of visits, cards may be mailed or delivered by messenger.


New Year's day calling cards may be handwritten or engraved. If desired, may include New Year's compliments. "Autographed calling cards are considered most complimentary."

A new fashion: callers autograph the hostess's album.
Related Articles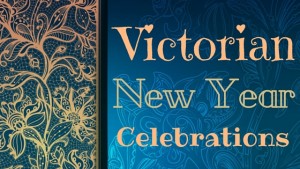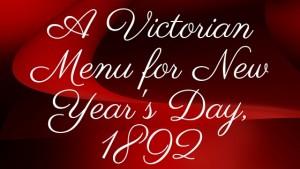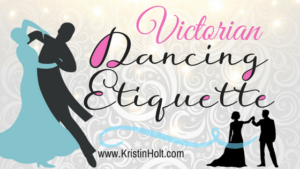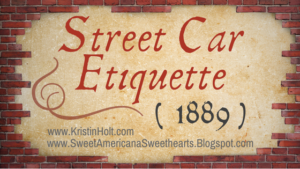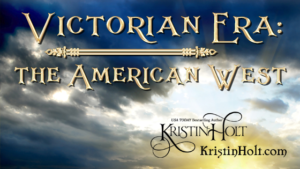 Copyright © 2021 Kristin Holt LC