Shanna Hatfield's 2nd Annual Cowboys & Christmas Blog Tour
Shanna Hatfield's 2nd Annual Cowboys & Christmas Blog Tour
.
Welcome to the 2nd annual

Blog Tour!
Raising funds and awareness for the Justin Cowboy Crisis Fund
.
Ring in the Holidays with a Helping Hand
November 1 through Dec. 24, 10 percent of the net proceeds from all Shanna Hatfield book sales will be donated to the Justin Cowboy Crisis Fund. The JCCF is a non-profit organization that assists rodeo athletes who've sustained catastrophic injuries and are unable to work for an extended period. Every book purchased during this promotional period adds to the donation total. Don't forget to add books to your Christmas lists!
USA Today Bestselling Author Shanna Hatfield writes character-driven romances with relatable heroes and heroines. Her historical westerns have been described as "reminiscent of the era captured by Bonanza and The Virginian" while her contemporary works have been called "laugh-out-loud funny, and a little heart-pumping sexy without being explicit in any way."
.
Walking with Ghosts



.
When I decided to write a Victorian Christmas story, I wanted to use a real town from the 1800s. After doing a little research, I settled on Hardman, Oregon.
Located in Eastern Oregon, about twenty miles from present-day Heppner, Hardman is now a ghost town with around two dozen residents.
From that first story, Hardman has become the setting for the Hardman Holidays series.
The other day, one of my beta readers made a comment that stuck with me. She said it made her sad to think about what the town is like today after she read about what a wonderful little community it used to be.
Although the stories are works of fiction and most of the town exists only in my active imagination, the town did boast a skating rink, four churches, a school, and newspaper office in the 1880s.
Stagecoaches and wagon trains traveling north and south through eastern Oregon and Washington found a convenient stopping point there. It was rumored the railroad would go through Hardman in the late 1880s. When it was routed through Heppner instead, it was a devastating blow to the community, effectively stunting future growth of the town. By the 1920s, trucks replaced horses, mail routes changed and Hardman began its decline. The last business in Hardman closed in 1968.
In the Hardman Holidays stories, we visit the town in the 1890s when things were still thriving.
.
.
This hill is where the schoolhouse once stood.
I like to think about what buildings stretched up the slight rise to the school. I picture boardwalks and picket fences and houses with gingerbread trim. The sounds of children laughing as they skip into town after school let's out for the day fill my ears. The sharp scent of wood smoke from the fires in hearths and kitchen stoves blends with the tantalizing aroma of roasting meat and the yeasty fragrance of baking bread.
The Hardman Bank would have a prominent place in town along with the Bruner's Mercantile, the newspaper office, and Abby Dodd's dress shop.
.
.
Visit Hardman as I see it in my imagination through the holiday series: The Christmas Bargain, The Christmas Token, The Christmas Calamity, and The Christmas Vow.
~*~
.
New Releases



.
To kick off the second annual Cowboys and Christmas Blog Tour and the JCCF campaign, two brand new holiday romances will release Nov. 12!
Capturing Christmas is the third installment in the sweet holiday western Rodeo Romance series.
Life is hectic on a good day for rodeo stock contractor Kash Kressley. Between dodging flying hooves and babying cranky bulls, he barely has time to sleep. The last thing Kash needs is the entanglement of a sweet romance, especially with a woman as full of fire and sass as the redheaded photographer he rescues at a rodeo.
Determined to capture the best images possible, rodeo photographer Celia McGraw is fearless and feisty. Not one to back down from a challenge, her biggest risk isn't in her work. Danger lurks in the way her heart responds to one incredibly handsome stock contractor. Will Kash and Celia capture the spirit of the season?
Pre-order your copy today! http://amzn.to/1FC8ZQj
.
Get all three books in the Rodeo Romance series!
.
The Christmas Vow is the fourth book in the Hardman Holidays sweet Victorian romance series.
Columbia River Pilot Adam Guthry returns to his hometown of Hardman, Oregon, after the sudden death of his best friend. Emotions he can't contain bubble to the surface the moment he sees the girl who shattered his heart eleven years ago.
Widow Tia Devereux escapes her restrictive life in Portland, returning to the home she knew and adored as a girl in Hardman. She and her four-year-old son, Toby, settle into the small Eastern Oregon community, eager for the holiday season. Unfortunately, the only man she's ever loved shows up, stirring the embers of a long-dead romance into a blazing flame. When her former father-in-law, a corrupt judge, decides he wants to raise Toby, Adam may be the only hope she has of keeping her son.
You can pre-order your copy today for only $2.99! http://amzn.to/1KQHhvI
.
Don't miss out on the Hardman Holidays series!
.

.
You're Invited to PARTY!
You're invited to join in the online Cowboys & Christmas Facebook Party, Thursday, Nov. 12 from 10 a.m. to 2 p.m. (PST). Drop in anytime during those four hours to enter to win great prizes, chat with guest authors, and more (many of the giveaways will stay open until the following morning)!
Here's the link to the party:
http://tinyurl.com/cowboychristmasparty2
The talented guest authors joining in the celebration include:
10 a.m. – Carmen Peone
10:30 – Kayla Dawn Thomas
11 a.m. – Melanie D. Snitker, Author
11:30 – Julie Cerniglia Lence
Noon – Author CJ Samuels
12:30 – Rachel Rossano
1 p.m. – Author Kristin Holt
1:30 – Dani Harper
To enter the drawing for an Amazon gift card, Wrangler Tote Bag, Rock & Roll Cowgirl T-shirt, autographed books, chocolates, and more fun goodies, fill out this form. Winners will be randomly drawn and announced Nov. 16. http://tinyurl.com/cowboychristmasprizes2

Where to Find The Books
Start the Rodeo Romance Series with The Christmas Cowboy.
Travel back to a time of grandeur in the old west with the Hardman Holidays series.
The Christmas Bargain begins the popular series
and is available free for a very limited time!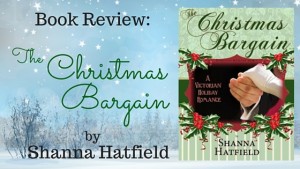 About Shanna Hatfield
Convinced everyone deserves a happy ending, hopeless romantic Shanna Hatfield is out to make it happen, one story at a time. Her sweet historical and contemporary romances combine humor and heart-pumping moments with characters that seem incredibly real.
When she isn't writing or indulging in chocolate (dark and decadent, please), Shanna hangs out with her husband, lovingly known as Captain Cavedweller.
This USA Today bestselling author is a member of Western Writers of America, Women Writing the West, Romance Writers of America, Sweet Romance Reads, and Pioneer Hearts.
Find Shanna's books at:
Amazon | Amazon UK | Barnes & Noble | Smashwords | Apple
Shanna loves to hear from readers! Follow her online:
ShannaHatfield | Facebook | Pinterest | Goodreads | You Tube | Twitter
Make sure you sign up for her newsletter to get the latest on new releases and exclusive giveaways!
.
Updated July 2022
Copyright © 2015 Shanna Hatfield