Reflections on an Inaugural Readers Luncheon: Keys to Success
Reflections on an Inaugural Readers Luncheon: Keys to Success
.
Approximately two weeks ago, The Utah Chapter (Heart of the West) of Romance Writers of America® held our Inaugural SLC Readers Luncheon. This event will be the first of many (annual) to follow. I had the privilege and pleasure of serving in the capacity as Chairperson for the event. It won't be long and we'll have many, many professional photographs from the event to share on social media, the event's webpage, and on the many participating authors' webpages. [I'll update this article with a link to the images once they're available.]

.
Robyn Carr, a #1 New York Times Bestselling Author (many times over) and USA Today Bestselling Author visited as Keynote Address Speaker. Readers and authors alike enjoyed Robyn's good humor, message, and company. What an amazing lady. Our chapter's own star, RaeAnne Thayne, also a many repeat New York Times Bestselling Author and USA Today Bestselling Author served as Welcome Address Speaker. Her message on being the Heroine of Your Own Life will stay with me for a long while.
.
Readers Luncheons are not unique to the event held in Salt Lake City 11-7-15. Successful events include but are not limited to: Barbara Vey Readers Appreciation Luncheon (Milwaukee, WI), Southern Magic (Birmingham, AL), Heart of Dixie Annual Readers Luncheon (Hutsville, AL), Love Our Readers Luncheon (Kennesaw, GA), Harlequin Reader Luncheon (Seattle, WA). I'm sure there have been others. I'm pleased to have been the chairperson for the first-ever Salt Lake City Readers Luncheon Event.
.
Are you wondering: What is a Readers Luncheon? [Bottom line, Readers Luncheons celebrate and honor readers.]
.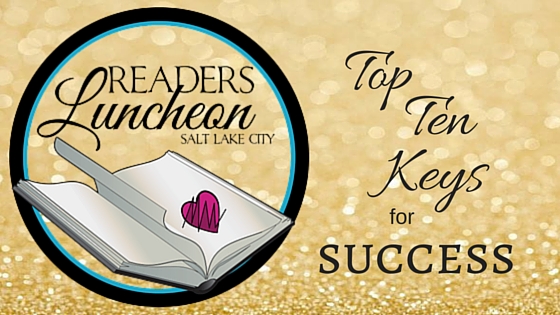 .
I want to address my Keys for Success to both event organizers and readers/guests. Why? Because we can't have one without the other. I've had the opportunity to enjoy a total of ONE Readers Luncheon in my life, as a hosting author… and it won't be the last. I also hope to have the experience of attending as a guest, if I have to fly to Georgia to do it. [Note: These Keys are given in no particular order.]

.
1.  If time allows, research all of the authors who are hosting, so you know who you want to sit with. Read a book or two they've written before attending. Bring your paperback copies (if applicable) for the author to autograph.
.
2. Plan on spending all day. Who wants to be so rushed you can't enjoy the Meet and Greet, or have to leave early? Try to reschedule any other commitments for the day.

.
3. Large conference rooms (or ballrooms) like this are sometimes too cold or too warm for some. Wearing layers ensures you are comfortable.
.
4. Read the event's website in detail. Often, important wish-I'd-known-that info is included in various places.
.
5. If you are unfamiliar with the venue, study mapquest.com or Google maps ahead of time so you're comfortable with travel time, locations, details (like an island that prevents left-hand turns), and know your driving route. All this will make arrival on the morning of your event ever so much easier and less stressful.
.
6. Consider inviting a friend to go with you! Social events are even more fun when you have at least one good friend along.
.
7. Make sure your phone is thoroughly charged. You might want to take a picture!
.
8. Make your food allergies known, far in advance. Event committees likely ask what your food needs are… if not, make sure you inform them.
.
9. "Many Hands Make Light Work." Sponsors– form a team of volunteers to handle every little detail. Assign a Website Specialist, a Registration Specialist, a Venue/Contract Specialist, an Event Specialist, a Communication Specialist, a Gift Basket/Door Prize Specialist, a Book Store Specialist, Swag Bag Specialist, and a Hospitality Specialist (to ensure your Keynote and Welcome speakers are cared for). This list could go on and on, stretch or contract to meet your individual event's needs. I made a serious error in judgment and was a One-Woman Show. Highly discouraged.
.
10. Invite guests to leave their name tags (plastic sheath with clips) with you afterward for reuse/reduction in waste. Provide a labeled basket for these and make it easy for guests to return them.
.
. . . and a few extra . . .
.
11. Hire a professional photographer to take images of the day's event. Everything from centerpieces to the meal to authors with their fans. These images will be most helpful for upcoming years' events, for creating compelling website content, meaningful author newsletters, and invitations to the public to attend.
.
12. Word of Mouth is the most effective advertising method. Always has been, always will be. If your registration service has the capacity to offer a discount (or cash rebate to the guest who recommends someone), do it! Find a way to provide a monetary award to those who register in groups of three, four, five or more. Make it beneficial for participating authors to promote the event.
.
13. BEGIN planning by securing a Keynote Address and/or Welcome Address Speaker with approximately 11 to 12 months to go before the big date. Influential speakers book at least this far ahead. without nailing down the date your speaker(s) are available, it's impossible to make arrangements for a venue… and if you wait too long, venues will be reserved, leaving you with very limited or unsatisfactory options.
.
.
Did YOU attend the 2015 SLC Readers Luncheon? Please reply to this post and mention your personal experience– what you loved about it or what you wish had been different. Feedback is always welcome.
Are YOU planning a Readers Luncheon event? What key elements do you find essential to pass along to others interested in holding a similar event?
.
Updated June 2022
Copyright © 2015 Kristin Holt, LC
.