.

Book Description: Walk a Mile in My Shoes
Is it possible to safeguard my emotional reserves and demonstrate superior customer service? Book Description: Walk a Mile in My Shoes.

YES! Book Description: Walk a Mile in My Shoes.

Can I go home at the end of the day overflowing with optimism and pleasure instead of exhausted and wrung dry?
YES!
Walk a Mile in My Shoes identifies your greatest workplace challenges. Three actionable Tools reduce your burdens, elevate your mood, increase job satisfaction, and reduce the chafe of those workplace challenges. Inside, you'll find the right words, the simplest of methods, and instead of giving and giving until you're threadbare, learn to fill your own well even as you excel in your role with patients.
.
Look Inside
While Amazon is a wonderful display for books, without a kindle edition, they cannot provide a "Look Inside" feature. I've decided that providing a thorough preview will assist pain management clinic administrators.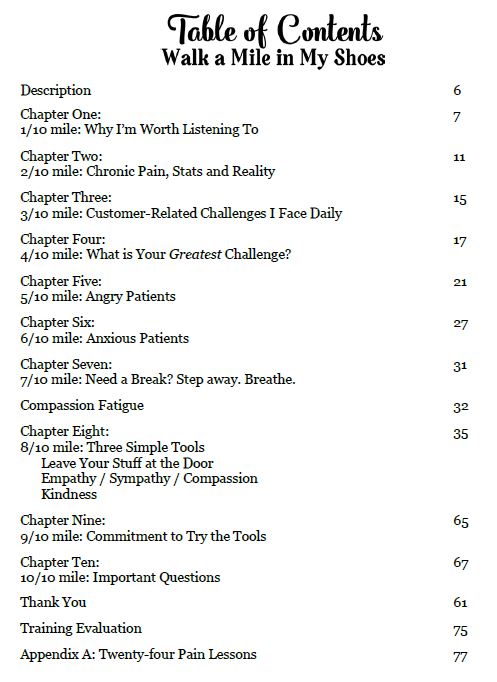 .
To access the PDF of this workbook in full, click on the link below.

Kristin Holt – Walk a Mile in My Shoes, A Solution-Oriented Training for Employees of a Chronic Pain Practice
Don't forget — if you'd like to have these books beautifully bound in paperback form, Amazon sells them.
.
Beyond the Book
This manual was developed to accompany a one-hour live training presentation by the same name. This book might substitute for the group training, as it contains most of the presentation's content, and in many sections, includes much more: video links, additional insights, quotes, room for personal lists, self assessment questions, space to write down epiphanies and discoveries.
Are you a Pain Management Office administrator planning to train staff members? With your purchase of this workbook for each participant, and upon email request, the author will provide via email the PowerPoint presentation and training notes, as is, and free of charge.
.
About the Author
Kristin Holt, RN, brings "three sets of shoes" to the "shoe swap" of Walk A Mile in My Shoes. The point where these three shoes–or three defining experiences in her life–create ideal credibility. Her nursing specialty was Labor and Delivery, where she experienced firsthand what pain does to nice and gracious people. Then Pain knocked on her door, became an unwanted house guest, and two decades later, Kristin knows what it's like to live with severe chronic pain. As a Weight Watchers™ Receptionist, Leader, and ultimately, Territory Manager, superb customer care became paramount as Kristin trained hundreds of employees in customer care, and coached them to peak performance.

Why would a novelist detour from fiction to nonfiction?
I've introduced myself, sharing my first career choice: nursing. I specialized in Labor and Delivery where things are usually wonderful. Generally healthy women have babies. Most of the time, families experience beautiful things as a new individual joins their family.
But when it's bad, it's horrid.
.
Pain
More importantly, when normally quite nice women are in pain they lose all manners. And behave badly. Scream and yell and make demands. Pain can cause the most gracious woman to lose her marbles.
It's no surprise that a person in pain isn't at their best. Now imagine working at a doctor's office or clinic where EVERY patient is in pain. Every last one. All day, every day. That's a difficult environment to work in.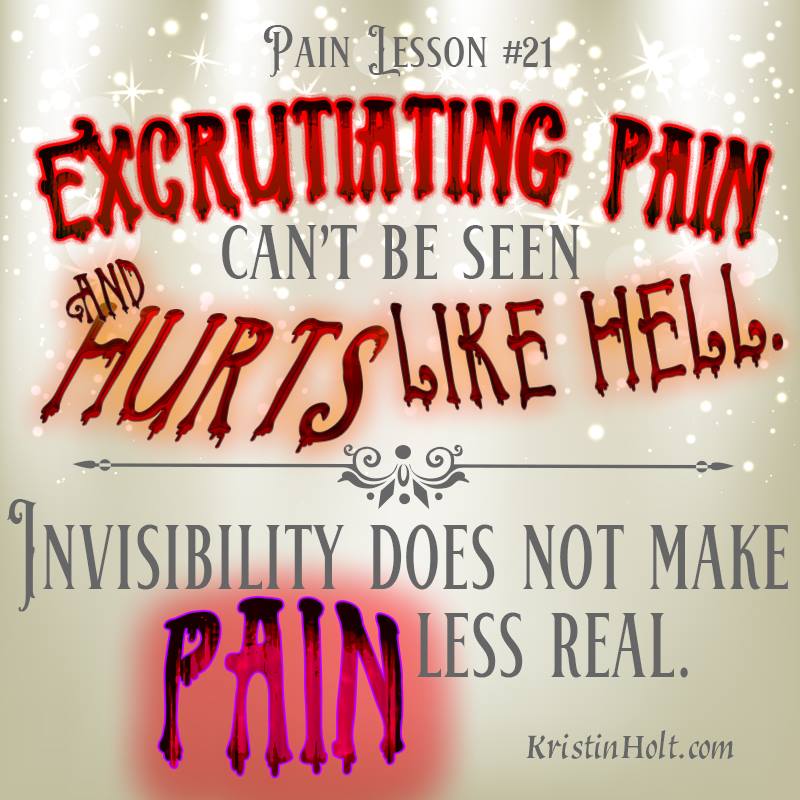 .
Pain Affects the Office Staff
As I've also shared on my Facebook personal profile and in my newsletter, I suffer from extreme chronic pain that has worsened over the past two decades. I have the utmost respect for my pain management doctor and for the staff that he employs. I want nothing more than to see his team thrive, enjoy success, and for their interactions with patients–individuals like me–to edify and buoy up not only the patient but the caregiver as well. Not only is this possible, it's within easy reach.
In preparing a training to present to my doctor's office, I created this book as a participant's manual. See the description for further information.
.
Offer
OFFER: As many of my readers have shared with me that they also suffer with chronic pain (some so severely, my heart breaks), and you think your doctor's office could benefit from this training and/or self-help manual, please contact me with your name and details, and I'll send you a paperback manual to give to your doctor's office manager for evaluation.

Have you read Walk a Mile in My Shoes?
Your review makes ALL the difference. A few words will do. As will much more if you have more feedback. <grin> Here's the "One Quick Click" link!

I wrote this title while reading and studying a book for writers: Write Your Book in a Flash by Dan Janal. See the review of Dan's title here.

.
Recommended: a growing series of articles, specifically about headaches and headache management in Victorian-era America.
.
Copyright © 2019 Kristin Holt LC