Warsh: Grandma's Receet (Washing/Laundry, Granny's Recipe)
Warsh: Grandma's Receet (Washing/Laundry, Granny's Recipe)
.
.
Given many years ago to a young bride by her Kentucky mountain grandmother
.
(Spelled precisely as originally written: phonetics, misspellings, misused words and all; [sic].) Handed down to me from my mother-in-law about the time of our marriage

.
.
1.  Bild fire in back yard to heet kettle of rain water.
2. Set tubs so smoke won't blow in eyes if wind is pert.
3. Shave one hole cake lie soap in bilin water.
4. Sort things, make three piles, 1 pile white, 1 pile cullord, 1 pile work britches and rags.
5. Stur flour in cold water to smooth then thin down with bilin water.
6. Rub dirty spots on board, scrub hard. Then bile. Rub cullard but don't bile.
7. Take white things out of kettle with broom handle, then rench, blew and starch.
8. Spred tee towles on grass.
9. Hand old rags on fence.
10. Pore rench water in flower bed.
11. Scrub down porch with hot soapy water.
12. Turn tubs upside down.
13. Go put on cleen dress, smooth hair with side combs, brew cup of tee–set and rest a rock a spell and count blessins.
.
Translations from Granny's handwritten note to today's standardized American English:
.
bilin, bile = boiling, boil
cullord, cullard = colored
rench = rinse
blew = bluing  (Mrs. Stewart's Liquid Bluing, since 1883)
.
.
Apparently, my great grandmother wasn't the only mother who set aside any given day of the week for a certain time-consuming chore (as in wash on Mondays, iron on Tuesdays)…
.
Wash on Monday,
Iron on Tuesday,
Bake on Wednesday,
Brew on Thursday,
Churn on Friday,
Mend on Saturday,
Go to meeting on Sunday.
.
This poem (also lyrics) is traditional in the UK just as it is in the western United States (my great-grandmother). Naturally, these routine chores were in addition to everything else they had to do. Butchering, making soap, bottling the garden and fruit trees and berries, planting, pruning, feeding the animals, milking, and more.

.
.
Sounds like way too much work for me. Today, I'm grateful for the ease of modern laundry. I can toss in a load whenever I have five minutes (or less), and needn't set aside one day a week for this once-onerous chore. I may be a huge fan of historical romance, but between you and me, I'm glad I live today.
.
"In the early days, without running water, gas, or electricity even the most simplified hand-laundry used staggering amounts of time and labor. One wash, one boiling and one rinse used about fifty gallons of water–or four hundred pounds–which had to be moved from pump or well or faucet to stove and tub, in buckets and wash boilers that might weigh as much as forty or fifty pounds. Rubbing, wringing, and lifting water-laden clothes and linens, including large articles like sheets, tablecloths, and men's heavy work clothes, wearied women's arms and wrists and exposed them to caustic substances.

.

They lugged weighty tubs and baskets full of wet laundry outside, picked up an article, hung it on the line, and returned to take it all down; they ironed by heating several irons on the stove and alternating them as they cooled, never straying far from the hot stove."
.
The closest I've come to doing laundry the old-fashioned way is by writing it into a frontier-setting. I enjoyed the research (and vicarious exposure) for including a purposeful laundry day in Gideon's Secondhand Bride, where Permilia (Millie) has a life-changing realization. After all, our thoughts wander a bit when doing mind-numbing chores.
.
Gideon's Secondhand Bride is a FREE Read with kindleunlimited
.
Related Articles
.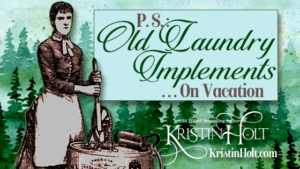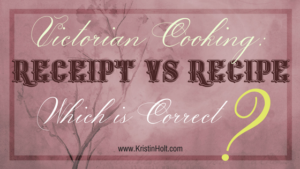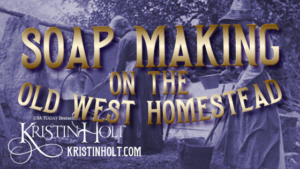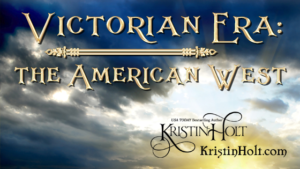 .
Updated July 2022
Copyright © 2015 Kristin Holt LC
Warsh: Grandma's Receet (Washing/Laundry, Granny's Recipe)