New Series:
Prosperity's Mail-Order Brides
Prosperity, Colorado, is a mining town on the verge of becoming a real settlement. In order to do that, they need wives. They pool together their resources and contract with Hartford Bridal Agency to send enough brides for all of 'em, but when the first shipment arrives in the late spring of 1881, a mere fourteen ladies— plus one extra— get off the train.
Forty miners.
Fifteen brides.
What could go wrong?
Apparently, as Evelyn experienced (The Bride Lottery, Prosperity's Mail-Order Brides Book 1), a whole lot can go wrong.
Mining camps aren't the safest of places, and the behavior of men far too long without the company of ladies tend to lose all sense of propriety. But she finds she can't discount all men, for Sam Kochler isn't just handsome… he proves himself a most decent, upstanding suitor. In fact, he's precisely what her battered heart and unborn child need.
Sam's not the only man to fall in love with his bride-to-be. A dozen marriages result from those first fifteen ladies to arrive in Prosperity, and upcoming books in the series will feature other couples' romances.
That leaves the rest of 'em— miners who've long forgot any citified manners they might have had. Evelyn Brandt Kochler, Sam's wife, has a plan to whip the miners into marriageable shape. If finishing school works for young ladies of wealthy, fashionable birth, it can certainly assist men whose behavior and manners are less than prize-winning. So Evelyn sets about training the remaining twenty-eight miners. In a mere two months, twenty more brides will arrive, and by then, she wants the men presentable and turned into the best husband material possible.
A second private rail car delivery—twenty young ladies—arrives in Propriety, and the rest of the men are significantly better prepared to woo themselves a bride with much-improved courting skills and manners.
But men have a way of forgetting most of what they learned when faced with steep competition…
Twenty-eight lonely miners.
Twenty mail order brides.
At minimum, eight are gonna be mighty disappointed.
Coming throughout 2019 and beyond, Prosperity's Mail Order Brides, a series of loosely connected sweet (wholesome) historical mail order bride romances set in Prosperity, Colorado.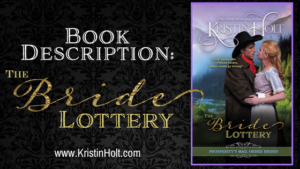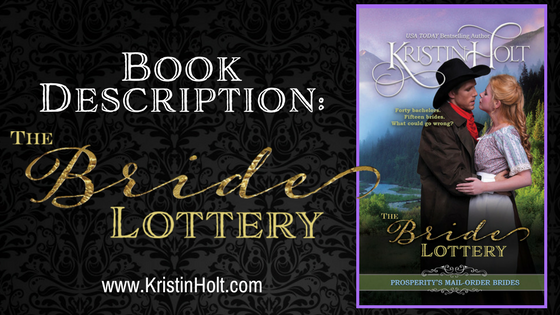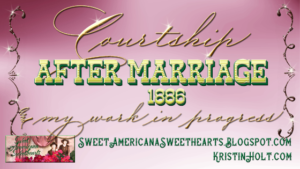 Copyright © 2015 by Kristin Holt, LC