Christmas Novellas: 15 Reasons Readers Adore Them!
Christmas Novellas: 15 Reasons Readers Adore Them!
.
This time of year, Christmas-themed novellas account for many of the new releases. Sometimes they're all alone. Sometimes they're part of an anthology with anywhere from 4 to 20 other titles. They're obviously popular with readers. But WHY are Christmas Novellas ADORED by readers?
.
.
I Suggest 15 Top Reasons Readers Adore Christmas Novellas:
.
1. Nothing brings holiday cheer like holiday-themed reading. Many readers embrace Christmas books to feed their Christmas spirit.
.
2. The price is right. Who can turn down a 99-cent read, especially from a favorite author? Christmas novellas are often priced (this time of year) at this sweet price. If they're $2.99, compared to your high-ticket-price author whose full-length titles are $9.99, it's a bargain.

.
3. Let's make that 99-cents even richer by letting it buy an ENTIRE ANTHOLOGY. This "lost-leader" pricing makes for an almost knee-jerk reaction by purchasers. And many book buyers (like you and me) somehow feel like reading what we've already bought.
.
4. Novellas give us so many time-commitment options: Read one in an evening. Start one during your lunch break and finish it during the train ride home from work..
.
5. …Or feast on the entire anthology on a lazy snowy Sunday. There's nothing quite like the joy of reading an anthology, one book right after another from different authors. Connected by theme (and sometimes era and place), it's like a buffet of delicacies. With scheduled breaks in between to refill your hot beverage and stretch.

.
6. Have no time between shopping, parties, gift-wrapping to start a long book? No worries. Plenty of shorter novellas exist. These are often labeled "novelettes" or "short stories" though the page count still makes them technically all the same thing.

.
.
7. Christmas Anthologies (novellas) are a great way to discover new authors. I'm a reader, too. I've found lots of authors and continued to read their full-length books after one of their Christmas novellas won me over.
.
8. Christmas romance anthologies often cater to various niches within Romance. If you're a fan of shifters, Christian romance, billionaires, brothers, cowboys, Regency period, princes, clean romance, etc., you won't have any trouble finding your favorite this holiday season… or next.

.
9. Something about Christmas lends itself beautifully to the winning themes (adored by readers) in romance novels. Family. Priorities. Children. Priceless gifts (of love, companionship, forever). Commitment. Faith. Redemption. Forgiveness. Second chances. New love. Traditions.
.
.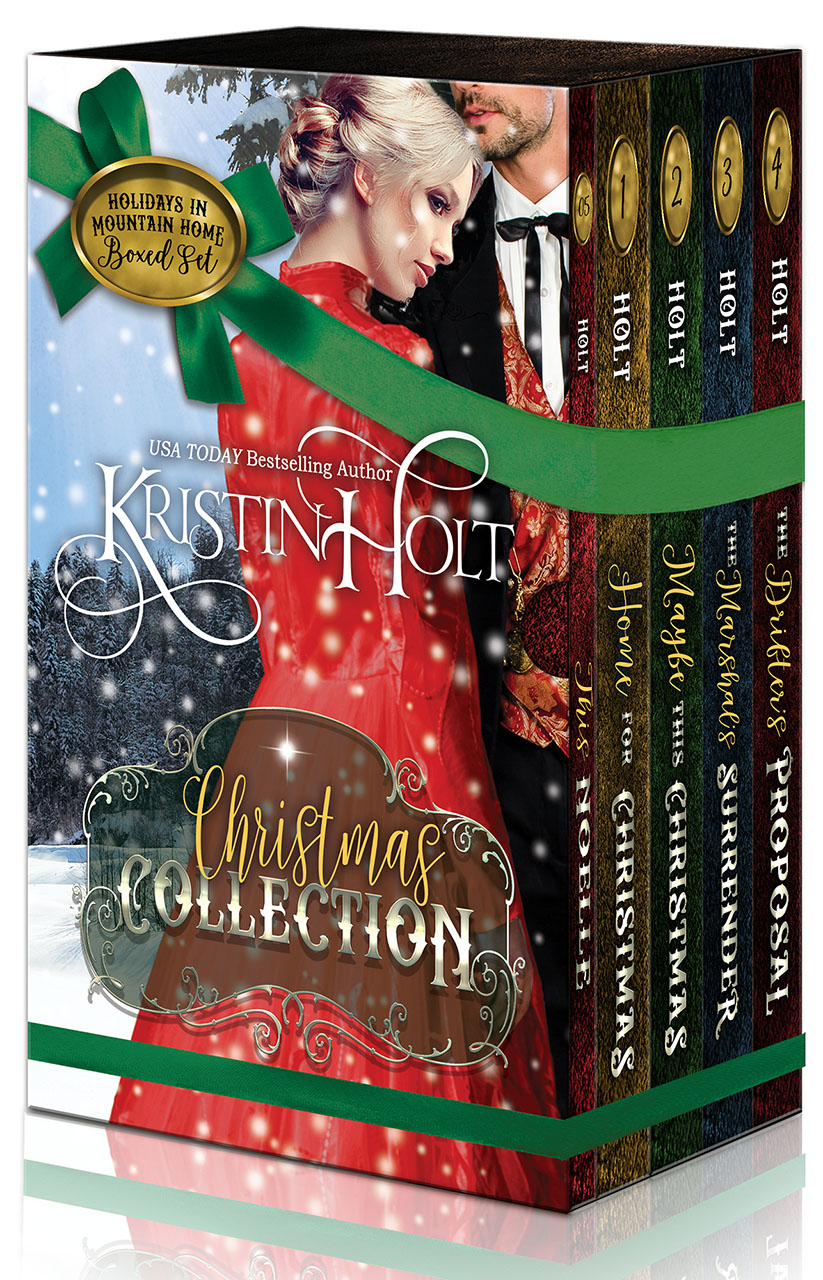 .
10. I know readers who enjoy Christmas novellas (or novels) all year 'round. They don't limit themselves to the holidays. Why? Because the elements they love about Christmas stories are so ingrained, it's not something they set aside come early January. This probably speaks more to themes.
.
11. Christmas novels are abundant. If you're done reading all you've previously purchased, there will always be more.
.
12. Several readers have told me that reading Christmas novellas reminds them of cherished holiday memories with parents and grandparents. This kind of connection with nearly-forgotten, special times is valuable to them.
.
13. Christmas novellas can suit a reader's mood, perfectly. Christmas stories come in all kinds: lonely, joyful, grieving, hopeful, dreading returning home, dreading family party,… whether it matches your own life at the time or you're simply in the mood for a really good romantic suspense, for example, you'll find every mood imaginable within the category.
.
14. The beauty of romances is characters always earn (eventually) their happily-ever-after. We're guaranteed a happy ending. Sometimes, when life is darn tough, we need a bit of resounding joy. People tend to read more romance when the economy's in a nosedive, they're struggling with serious challenges, or lonely. Romance novels nurture hope.
.
15. Story = conflict (trouble for characters). Christmas is naturally a time of conflict. Expectations from family and friends. Winter (for those of us in the northern hemisphere), and all its man-vs.-nature and interrupted travel. Financial pressures. Office parties and family celebrations and all that jazz. The most rewarding reads have plenty of conflict because conflict = story.
.
.
Invitation
.
.
Now it's your turn.
I'm sincerely interested to know what ideas you can add to this list. Let's aim for 20– no!– 25. In honor of Christmas on the 25th. Please reply and add your personal reasons (or thoughts on the phenomenon).
.
[Note: Many of the Christmas novellas listed below are ALSO available as a FREE Read with kindleunlimited subscription. Clicking on the links, below, will allow you to read book descriptions, see if it's available with kindleunlimited without a commitment to buy.]
.
.
Updated June 2022
Copyright © 2015 Kristin Holt, LC
Christmas Novellas: 15 Reasons Readers Adore Them! Christmas Novellas: 15 Reasons Readers Adore Them!