My most recent post was all about Ice Cream Sodas, contemporary and late-Victorian. How they were made just might surprise you! Though some inventions (see the patents within that article) required no soda fountain at all, ice cream soda waters were quite inseparable from the iconic Soda Fountain.

THE SODA FOUNTAIN
Apparently, (as the article below states in multiple ways) keeping insects out of guests's soda water is a premium selling point. Note the "Jet Attachment" (apparently the faucet protruding from the upper portion of the front of apparatus).
I'm not sure what the "attachment" is, when referenced with the PRICE $35.00 (just above the J.C. Wharton & Co [Patentees], Druggists line at the bottom of clipping).
What cost $35.00 in 1869 would cost $640.44 in 2016. (latest year available)
What cost $40 in 1875 would cost $887.58 in 2016.

What cost $50.00 in 1875 would cost $1109.47 in 2016.

What cost $75.00 in 1875 would cost $1664.21 in 2016.

What cost $100.00 in 1875 would cost $2218.95 in 2016. (latest year available)

AN AMERICAN INVENTION, ON DISPLAY
DOW'S ICE CREAM SODA FOUNTAIN
Paris World Exhibition, 1867
The Ice Cream Soda Fountain seems to have been uniquely American…and at put its own special stamp on history at the World Exhibition held in Paris. "The American Restaurant" at the Exhibition had opened by mid-May 1867, and a lengthy article appeared in the Chicago Tribune on May 19, 1867. The following snip is one paragraph from that lengthy article, mentioning the astounded reaction Europeans gave Dow's ice cream soda fountain within that American Restaurant.
According to a publication titled Reports of the United States Commissioners to the Paris Universal Exhibition, Volume 5 (found on page 6):
In 1861 and 1863, Dows had already created "new and improved (over some previous work)" patented ice-cutter and ice-crushing machines, "the nature of my invention consists in an apparatus whereby I effect the cooling of soda, sirups [sic], and cream and facilitate the keeping and admixture of them." ~ U.S. Patent No. 33,880.
In 1863, Gustavus D. Dows applied for and received a reissue for his 1861 patent (No 33,880), pictured above, Reissue No. 1,462, dated April 28, 1863. His lengthy explanation of the updates/"new and improved" elements included details about the enveloping chest now large enough to contain any desired number of surup-vessels, a cream-chest, and an ice receptacle or chamber, all arranged in a convenient manner. Pipes leading from the soda fountain passes through the ice reservoir to keep a considerable length of that pipe cooled. Each of the sirup jars or vessels were provided with an eduction-pipe. Talk about an inventive American!

MORE UNITED STATES SODA FOUNTAIN PATENTS
Antoine Piccaluga, a Parisian, invented certain improvements and qualified for a United States Patent (Patent No. 120,531, patent date: October 31, 1871). "Improvement in Apparatus for manufacturing Iced Cream and Soda Water" [sic]. Note the choice of "Iced Cream", and see reference in recent post about the differences between Ice Cream Soda in the late Victorian era vs. today.
Van Riper's and F.E. Kip's Patent, 1884, for specific improvements in soda fountain design. The text of the patent provides precise information, referencing the diagram with lettered figures, about what was "new" and what had been previously created. This tech-heavy description provides an understanding about how the soda fountain worked…how the levers caused soda water (in this case, spelled sodawater) and various flavored sirups [sic] to combine in the drinking glass.
1887 PATENT SODA WATER DISPENSING APPARATUS
One more patent arose from the Soda Fountain craze in Victorian America:

SODA FOUNTAINS HAVE COME A LONG WAY!

Up Next!
The Soda Fountain– Behind the Counter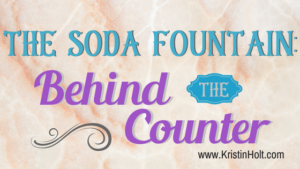 Details you'd know if you worked as a Soda Man…
Operation of the Soda Fountain Apparatus, Recipes for flavoring syrups, How to Pour the best ice cream soda, Successful Advertising of the Soda Fountain, Use of Ice at the Soda Fountain, Cleaning the Apparatus, Recharging the Soda Fountain, Running a Profitable Soda Fountain Business, and establishing a fine reputation for the best carbonated beverages in town.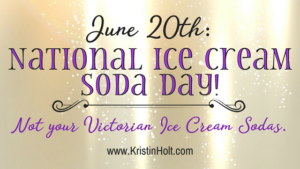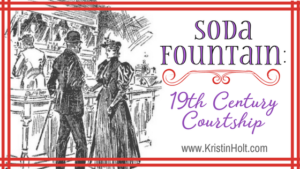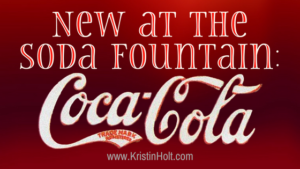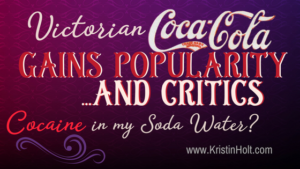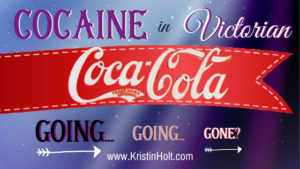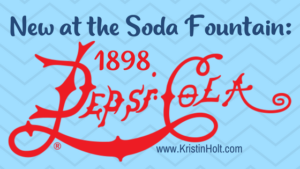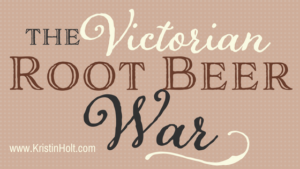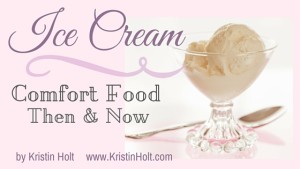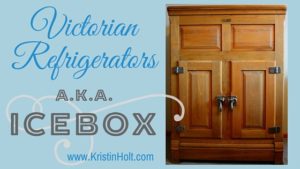 Copyright © 2017 Kristin Holt LC