Old West: Toothbrushes and Toothpaste
Old West: Toothbrushes and Toothpaste
.
.
TOOTH POWDERS & TOOTHPASTE
.
The recipe for toothpaste was found on an ancient Egyptian papyrus. This toothpaste was a mixture of rock salt, dried iris flower and pepper ground up and combined together.
.
.
In 1855, a recipe for toothpaste was printed in the Farmer's Almanac. The recipe called for myrrh, honey, and green sage. This was to be used on wet teeth each night. An alternate recipe called for cream of tartar mixed with clover oil and cuttlefish bone.
.
Tooth powders for use with toothbrushes came into general use in the 19th century in Britain. Most were homemade, with chalk, pulverized brick, or salt as ingredients. An 1866 Home Encyclopedia recommended pulverized charcoal, and cautioned that many patented tooth powders that were commercially marketed did more harm than good.
.
In 1873, Colgate debuted a nice-smelling toothpaste and sold it in a glass jar.
.
.
Dr. Sheffield made his own dental cream in his office, added mint extracts to it so as to improve the flavor, and used it on his patients who expressed their liking for it. The first advertisement published for Dr. Sheffield's Créme Angelique Dentifrice toothpaste appeared in the New London Telegram on March 12, 1881. In 1896, Colgate & Company Dental Cream was packaged in collapsible tubes imitating Sheffield. The original collapsible toothpaste tubes were made of lead.

.
Those living in the comparatively rural American West often concocted homemade recipes for tooth powder or used simple staples such as baking soda (sodium bicarbonate), a mild abrasive. It has a mild whitening action and helps to keep an alkaline environment (not friendly for dental plaque bacteria) in the mouth.
.
TOOTHBRUSHES
.
.
Until the 20th century, toothbrushes sported hog bristles. Handles made from cattle bone or wood supported those bristles. The wealthy enjoyed toothbrushes of silver (like Napoleon Bonaparte's). In 1844, the first 3-row bristle brush was designed.
.
.
The first American to patent a toothbrush was H. N. Wadsworth, (patent number 18,653,) on Nov. 7, 1857. Mass production of toothbrushes began in America around 1885. 95 years after mass production of toothbrushes in England.
.
.
Toothbrushes had begun to be mass produced at the end of the eighteenth century, using bone for the handles, but for those who could afford a personal-hygiene set handles were made from more-expensive materials such as silver gilt and mother-of-pearl. The owner of such a brush would not have wanted to throw it away once the bristles were worn out so replacement pads of bristles were also available.

.

~ Note accompanying this image of silver gilt toothbrushes on Pinterest
.
.
DID WESTERN HISTORICAL ROMANCE CHARACTERS BRUSH THEIR TEETH?
.
As oral hygiene implements resided on shelves at the General Store, I hope so. We read of heroes finding the heroine's nearness pleasant and agreeable and the fresh taste of the hero's kiss. So fictional characters, at least, employed excellent oral hygiene.
.
.
Related Articles
.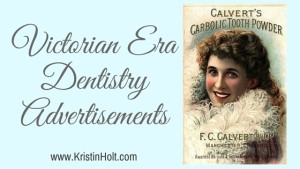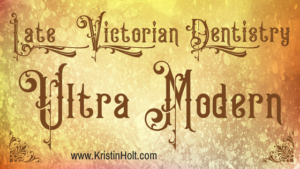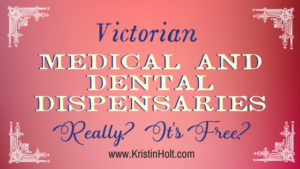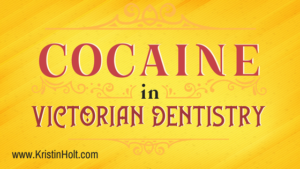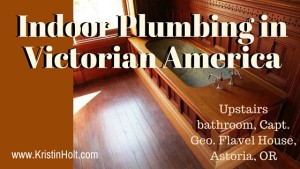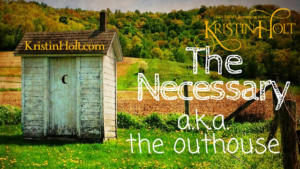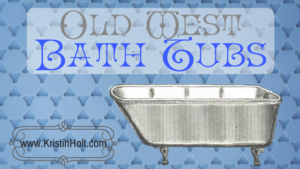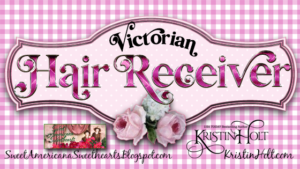 .
Updated June 2022
Copyright © 2015 Kristin Holt LC
Old West: Toothbrushes and Toothpaste

Save