Victorian Jelly: Fruit Jellies
Victorian Jelly: Fruit Jellies
.
.
Previous posts in this Victorian Jellies series have focused on moulded dishes, sweet or savory, popular in the nineteenth century. In contrast, this post focuses on jellies. The kind of jelly one spreads on toast or between cake layers.
.
After all, they both relied on domestic science to gel.
.
Today's Jellies Use Pectin
.
Contemporary Jelly and Jam recipes call for fruit pectin. The commercially-prepared kind. Pectin is the magic that gels all that fruity goodness into a spreadable delight.
.
.
Why Add Pectin?
.
Pectin is a substance in fruits that forms a gel if it is in the right combination with acid and sugar. All fruits contain some pectin, but some must be combined with fruits high in pectin or with commercial pectin products to obtain gels.  Because fully ripened fruit has less pectin, one-fourth of the fruit used in making jellies without added pectin should be under-ripe. The use of commercial pectin simplifies the process, but jelly made without added pectin contains less sugar and tastes fruitier. Follow the manufacturer's directions for using commercial pectin and do not interchange liquid and powdered pectins.

.

~ Clemson Cooperative Extension Home & Garden Information Center
.
.
Victorian Jellies Relied on Natural Fruit Pectin
.
One really amazing part of Victorian-era jelly (and jam) making is no added pectin. Nineteenth-century recipes relied on the natural pectin in fruit. The quote from the extension service, above, emphasizes how truly amazing this process was. Competent cooks knew which fruits had to be combined with others if the jelly would set.
.
Recipes: Nineteenth Century Jellies and Jams
.
The following recipes include various hues of currant, marmalades, berry jellies, peach, gooseberry, and grape jam. Other recipes are for "four fruit" combinations (perhaps to benefit from adequate natural pectin) and "Black Butter." And don't forget the cranberry sauce, as the kitchen science was the same.

.
Recipes are listed in order of publication date. I've sprinkled historical details and interesting facts in between.

.
.
See the vintage (1846) instructions about "bottling" each jelly recipe: "put it into glasses."
Yes. Glasses.
This is a curious example of two currant jelly recipes. One is boiled. The other is simply stirred. A lot. And then "put into glasses."
.
.
This photo, below, is of an early American pressed glass tumbler. Jelly glasses originally had no caps or lids. 19th century homemakers used tissue paper, white paper, paste, sugar, and brandy to "seal" their jellies and jams.

Montgomery, Ward & Co. 1895 Catalogue offered jelly tumblers for sale.
.
.
.
.
This 1851 cookbook (The American Matron) provided a lengthy preface to jelly and jam recipes. What a goldmine of early Victorian-era cooking information! Here are two key paragraphs. One about how to cover jelly glasses with paper and paste. Or brandy-soaked paper. With cloth and string.
Mould? Yes, as in mold. And not the fancy dishes Victorians molded jellies in.

.
.
.
Most Victorian-era recipes are brief, like the one above. Why such brevity? Because housekeepers (a.k.a. wives) were expected to know the basics. Women passed along household knowledge to one another.

The currant jelly, below, is rare in that detailed instructions are provided.
.
.
.
A common peach jam recipe, which follows, is significantly different in method than others presented here. Note that this calls for perfect, ripe peaches, cut into small bits, and layered in sugar. The peaches are not boiled with the sugar, nor is the combination hot when placed in prepared tumblers. As was typical of the era, jars were covered with pasted-down paper. No lids! No seal!
.
.
.
.
.
.
Note the use of brandy-soaked paper to cap this 1864 jelly recipe.

.
.
.
Sometimes jelly tumblers did have lids. Or at least caps.

.
.
The final sentence, below, mentions jelly jar caps. Note the instructions. Interesting, right? "Pour into glasses and allow it to remain a day before putting on the covers."
.
.
Related Articles
.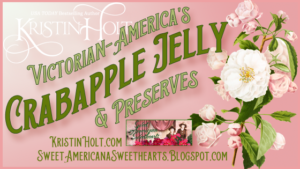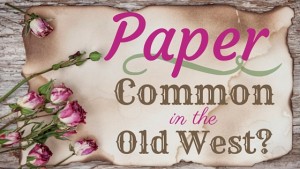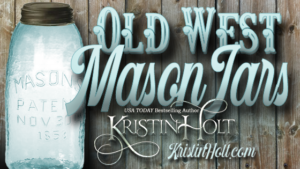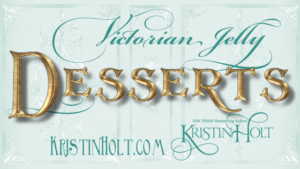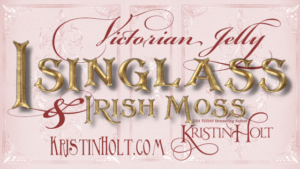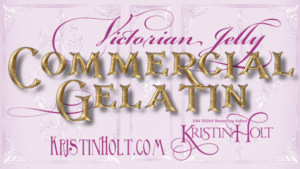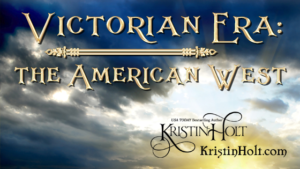 .
More about Victorian Jellies
.
.
Updated July 2022
Copyright © 2021 Kristin Holt LC
Victorian Jelly: Fruit Jellies Victorian Jelly: Fruit Jellies