Nineteenth Century Mail-Order Bride SCAMS, Part 5
Nineteenth Century Mail-Order Bride SCAMS, Part 5
.
Chicago's 100 Matrimonial Agencies–all shut down by one Police Detective, Clifton Wooldridge.

ONE HUNDRED FALSE Matrimonial Agencies in Chicago at the Turn of the Century?
.
.
.
.
Note the two new crime method additions (as addressed in parts 1-5 so far): stock matrimonial letters and stock matrimonial photographs— more than one million, each. You'll learn more about this in the PBS video transcript, below.
.
.
Called the Sherlock Holmes of Chicago, Detective Wooldridge investigated crime well beyond the boundaries of marriage agencies. If the crime existed, he scouted and arrested, prosecuted and rescued. He "personally arrested 19,500 people, 200 of them were sent to the penitentiary; 3,000 to the house of correction; 6,000 paid fines; 100 girls under age were rescued from lives of shame; $100,000 worth of property was recovered; 100 panel houses were closed; 100 matrimonial bureaus were broken up." [Source]
.
.
"While the numbers (of matrimonial agencies broken up) varies a bit from source to source, it's still incredible that one man did so much good in his twenty years on the force. He claims to have rejected all bribes that would have made him very rich. He resigned at age 54, having made barely enough of a living that he "had no home over his head".

.

~ The Inter Ocean, Chicago Illinois, December 28, 1909

.
Apparently a few of the stock matrimonial photographs survived, though a huge shipment to a mining town in the American Southwest was interrupted by Detective Wooldridge and destroyed, no doubt contributing to the staggering figure of 1,400,000 such images taken out of circulation. One such surviving (rare) photograph was presented to an antique dealer, in search of clarification, information, and no doubt, the photo's value. You'll find a video and transcript of that PBS show here.
.
.
Having worked the Chicago streets and seen it all, Wooldridge was a man on a mission, intent on stopping people from falling prey to thieves. He wrote numerous books detailing crimes he'd witnessed in the sincere hope of preventing further victims. Titles included: Hands Up! In the World of Crime, and The Devil and The Grafter and How They Work Together to Deceive, Swindle and Destroy Mankind. He wrote a list of tips called Detective Clifton R. Wooldridge's 'Never-Fail' System for Detecting and Outwitting All Classes of Grafters and Swindlers.

.
.
.
As a side note, it seems universally true that the lives of officers of the law seldom grant Conjugal Felicity (marital joy/bliss). Detective Wooldridge may have worked tirelessly to rid Chicago of marital scams, but his own marriage was no joyride.
.
.
.
Invitation
.
I'd love to know what YOU think about this series of articles and the scams surrounding many of the marriage agencies in the late 19th Century. 
Do you see connections between today's online dating sites and the 19th Century "love through the mail" bureaus and agencies?
.
.
Related Articles
.
Up next! Nineteenth Century Mail-Order SCAMS, Part 6
including several scams Detective Wooldridge put a halt to as he arrested the perpetrators.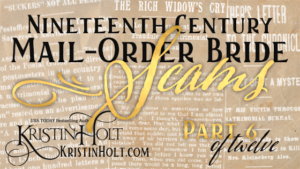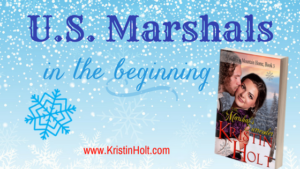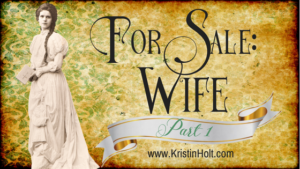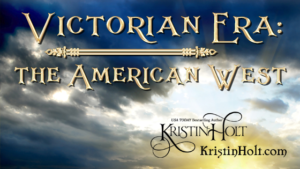 .
The Rest of the Series
.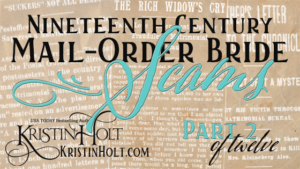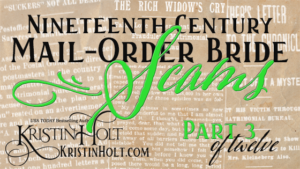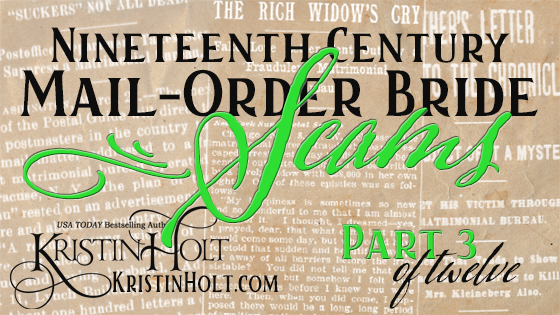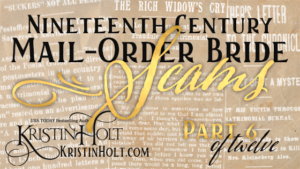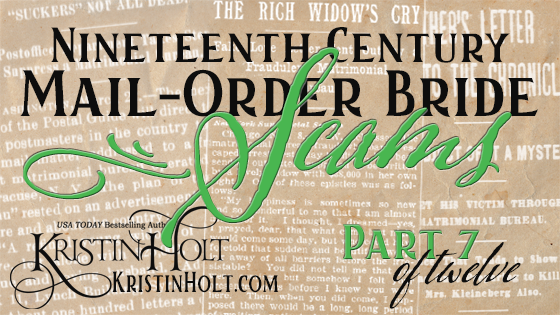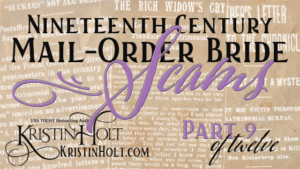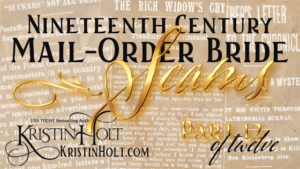 .
Updated June 2022
Copyright © 2016 Kristin Holt LC
Nineteenth Century Mail-Order Bride SCAMS, Part 5