Nineteenth Century Mail-Order Bride SCAMS, Part 3
Nineteenth Century Mail-Order Bride SCAMS, Part 3
.
A man with two wives (neither knows about the other) seeks yet two more… entirely to swindle them of their means. This article may appear lengthy (10 separate snippets), but it's so well worth a read. "Franks," presents himself on the West Coast in the middle of defrauding women through multiple marriage agencies. But the scammer is scammed by a "wealthy widow" in demand of an expensive courtship.
.
[Amateur historians will find myriad details worth noting. The communication of chiefs of police. Use of the term 'dead beat.' Laws on the books at that time and so much more.]

.

.
.

.
FRANKS HAS A RECORD
A Reason for His Hasty Flight Over the Rio Grande.
WIFE IN NEW YORK AND ANOTHER HERE.
Jamestown's Chief of Police Writes Telling His History.
Pronounces Him a "Dead Beat" and Says That He Was Known as Peterson in the East.
.
__________________
.
A good deal of sympathy seems to have been wasted upon Henry C. Franks, the missing witness against Isaac W Bain and Grace Allison, charged in the Federal courts with using the mails to defraud patrons of their matrimonial agency. Franks has been described in the papers as a gullible Eastern youth who came out to San Francisco to meet Grace Allison and to marry her. She posed as a widow with $35,000 and to win her Franks has testified in the various hearings of the case that he was induced to spend a thousand dollars in presents and in the expenses of his trip out here. It has been insinuated that Franks' disappearance was at the instance of Bain, who was said to fear the effect of Franks' testimony against him and his fair partner in the matrimonial bureau business. Recent developments have shown the real cause of Franks' disappearance. In Jamestown, N.Y., Franks was known as Charles F. Peterson and there he has a wife and a son whom he deserted in order to gain a rich wife. In November last he married in Fairfield, Solano county, a Mrs. Hattie H. Morris, 62 years of age. He met his woman in this city through a matrimonial bureau conducted by Mme. Hertz.
.
Attorney Crowley, who is acting for Bain and Grace Allison, learned of Franks' duplicity and in reply to a letter of inquiry accompanied by a photograph of Franks addressed to the Chief of Police of Jamestown, N.Y., he has recently received the following reply:
.
T.J. Crowley, San Francisco, Cal. "Dear Sir: Your letter, with photograph, inclosed [sic] at hand. The latter is a good picture of Charles F. Peterson. He left here a year ago last summer, leaving behind a wife and son and several creditors as well. He is a contractor and builder. His wife is living at 118 Crescent street. I think you can get further information by writing to Brandford, Pa., where I understand there is a warrant for him growing out of his shady business transactions. He is what I should consider a genuine dead beat. Respectfully, FRANK A. JOHNSON, Chief of Police."
.
Franks, or rather Peterson, is said to be a veritable marriage bureau fiend. He was passably good looking and somewhat of a dresser, and believed that he was destined to marry some rich woman. Before coming to San Francisco he became a member of matrimonial agencies in New York, St. Louis, Toledo, Kansas City, and several in this city. His name was upon the books of Benjamin's agency, the Golden Gate agency, the Pacific Information Bureau, Mrs. Muffley's, alias Mrs. Hayes and Mme Hertz agency.
.
This young man with the desire to marry riches, Attorney Crowley says, was not induced to come to California by Grace Allison's glowing love letters, as he alleged on the witness stand. Before ever he started for California he had engaged himself through the mails to marry Sadie Nichols through the Golden Gate Matrimonial Bureau. The Nichols woman is the one who was found dead in Golden Gate Park last July. She posed at the matrimonial bureau as a widow possessing $30,000 in cash. In order to make her acquaintance Franks paid the Golden Gate people $6, giving them $1 more than they asked as an example of his munificence. After corresponding with Sadie Nichols and exchanging pictures Franks agreed to marry her and sent to the matrimonial bureau a promissory note for $150, payable on his marriage to Sadie Nichols, the $30,000 widow.
.
On his arrival in San Francisco last February, Franks was introduced to Grace Allison, who posed as a $35,000 widow in Isaac Ban's agency. The Nichols woman saw him no more. The extra $5000 in Mrs. Allison's rating was an attractive bait to this fortune hunter. He was most attentive. For flowers which he sent her a Post-street florist has a judgment of $18 against him. He made her many small presents of jewelry, and on going to El Paso sent her several bolts of silk, some laces and eight opals. In his complaint in the court against Grace Allison, Franks asked to be refunded the money he spent in coming to California, the expense of a trip to El Paso and the money he spent in living and in going to the theaters here. During his courtship of Mrs. Allison, whom he apparently believed the real possessor of much property, he succeeded in borrowing from her, it is alleged, something like $50. He tried to borrow a much larger sum, and the proof of this is to be found in his letters to Grace Allison, which are to be produced in court. In a letter dated August 15, 1898, Franks wrote to her as follows:
.
"I wrote you this morning, but entirely forgot to mention that I have looked for that little bit of cash. I asked for a few thousand dollars, you will remember, some time ago. Many kisses."

.
The intention of the man is well shown in his letter accompanying his application for membership in Bain's agency. He was looking for a rich wife.
.
BRADFORD (Pa.), October 4, 1897: Your kind favor at hand. Please accept my thanks. I want a lady from 16 to 50, but wealthy, if not, I will never marry. You know already what I am and what I do. I do not care in which State the lady may live, but I prefer California or some Western state. I am foolish to say so, but they all say that I am very good looking and well built. aI am a good man for drawings and contract business. I will make a lady as happy as any man ever did. I do not drink or chew. If you gentlemen can get me a wife before Christmas I will pay you well for it. As to my religion, if the lady I get have any other religion and wishes me to change I will do so. I will do anything in the world to make her happy. Gents, to-morrow I will send you six of my photos, which you will please send some ladies that want to marry, but please do not destroy them. If you get me a lady as you say you can do, the more money she has the more money I will pay you and do all I can for you. Please let me hear from you by return. Yours truly, HENRY C. FRANKS.
.
In his application accompanying the letter Franks gives his age as 28. He claims to be a college graduate and to be accomplished in music. He says that he is very good looking and in answer to the question, "Do you dress stylish or plain?" Franks says "Both." He says that is not married.
.
While Franks was paying attention to Grace Allison he was also carrying on a matrimonial bureau flirtation with a Swedish servant girl, to whom he was introduced for a fee by Mrs. Muffley, otherwise known as Mrs. Hayes. He gave her a cheap engagement ring, but, on attempting to borrow money from her, she became suspicious and broke off the engagement. She was known as Oline Widness and gave her address as 831 O'Farrell street.
.
Franks became a bigamist in the early part of last November. Through a Mrs. Hertz he met Hattie H. Morris, a widow 62 years old, whose home had been in Dixon. Franks took the woman to Fairfield, in Solano county, and was married to her there by a Justice of the Peace. Franks was after her property, which he learned consisted in the main of lots in Oakland and in San Francisco.
.
An agreement was made between Franks and Mrs. Hertz that on his marriage to the Morris woman Franks was to pay a commission to the bureau of $200. He first took rooms on McAllister street, but Mrs. Hertz' vigorous quest of her fee drove the newly married couple to find an abiding place in another part of the city. Until recently they lived at 502 Powell street. Their life there was not of the pleasantest. Mrs. Peterson, or Franks No. 2, steadily refused to realize on her lots for Franks' benefit or to pay the premium on the life of her partner. One day she detected Franks in the act of purloining their marriage license. Franks had taken it out of his wife's desk, and when she suddenly discovered him as he was about to make off with it he told her that he wanted to have it framed, so that it could be hung upon the wall. Two weeks ago yesterday, and just two days before he was to have been called up as the star witness in the prosecution of Bain and Grace Allison in the Federal Court, Franks disappeared. His second wife did not know of his going. In some way he managed to remove the contents of her trunk without her knowledge, and he quietly slipped away to Mexico.
.
The latest wife of Franks, the sixty-two-year-old bride, has engaged as her attorney M. G. Cobb, whom she has instructed to proceed as quickly as possible to have the marriage annulled legally. She has stipulated that there be no publicity to the action, and in order to avoid notoriety she has refused to prosecute Franks on any charge. As soon as Franks re-enters this country from Mexico he may expect to be arrested and brought back to this city for trial. Yesterday Mrs. Franks disappeared from 502 Powell street.
.
Franks' first wife is said to have been born in England. Franks met her in a millinery store and married her some three years ago. One child was born to them, a boy.
.
The accomplishments of Franks are varied. Besides being able to dress either "plain or stylish," he writes poetry.
.

.
Note: See, above: Franks had borrowed something like $50 then attempted to borrow a much larger sum. Today, $50 is a good chunk of change but not the end of the world.
According to an inflation calculator, $50 of 1898 dollars would be worth: $1,683.78 in 2021. Nearly $1700 is a lot of money.
.

.
Amazing, isn't it? One man, using multiple matrimonial bureaus and agencies to defraud multiple women of their property, finds himself scammed in the midst of it all by a woman demanding an expensive courtship. The only bright one in their midst appears to be the Swedish Serving Girl who broke off an engagement with the man.
.

.
Related Articles
.
Up Next!  Nineteenth Century Mail-Order Bride SCAMS, Part 4. In 1865 (34 years earlier than Franks' scheme), a similar incidence in New England didn't get quite so far but caused quite a stir.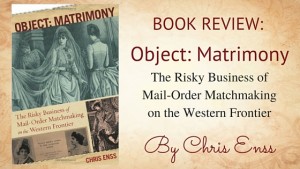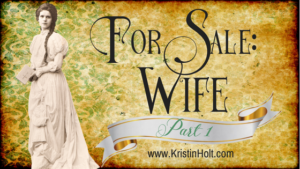 \


.
The Rest of the Series
.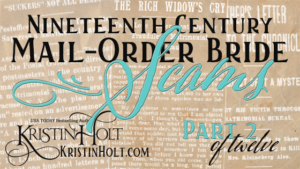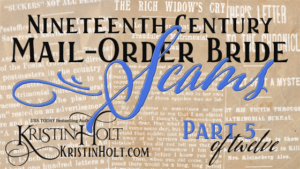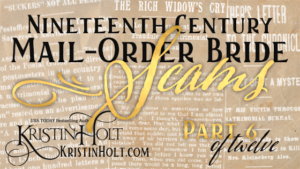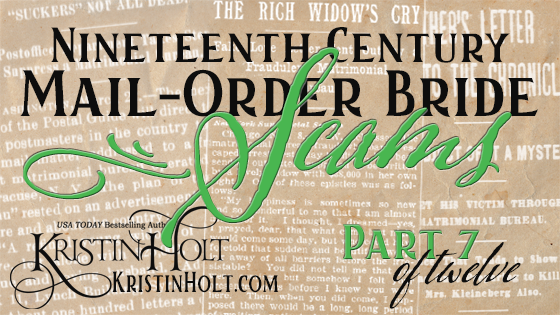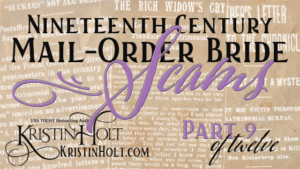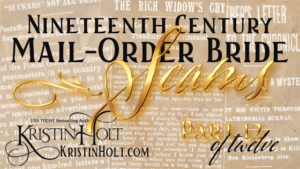 .
Updated June 2022
Copyright © 2016 Kristin Holt LC
Nineteenth Century Mail-Order Bride SCAMS, Part 3 Nineteenth Century Mail-Order Bride SCAMS, Part 3 Nineteenth Century Mail-Order Bride SCAMS, Part 3