Victorian America's Thanksgiving Recipes
Victorian America's Thanksgiving Recipes
.
It's Thanksgiving time, and for most Americans, that means a sit-down meal with "all the trimmings". While the side-dishes have changed (as far as I can discern, the green bean casserole appeared far into the 20th century) somewhat, many sides (like sweet potatoes) have remained certain. Our great-great-grandmothers in the Victorian-American nineteenth century made cranberry jelly or cranberry sauce from scratch. And homemade Parker House rolls, homemade dressing / stuffing, and homemade pies. Victorian
.


.
Victorian Recipes
.
Reading the recipes from 118 to 139 years ago is like a glimpse of "Reality History", where glimpses of real life come into focus. Details like oyster pie was made, truly, in Missouri. (Who knew?) In this way, locations of nineteenth-century newspapers shed light on the way things were in favored settings for western historical romances. Note that some of the recipes included here were published in Kansas and Missouri– as "frontier" and "old west" as any state or territory could be throughout the nineteenth century. Yes, many of the recipes are from upstate New York and Boston. Why? Because those papers had dedicated columns for recipes, with shout-outs published in the months leading up to holidays, asking subscribers to send in their tried-and-true recipes with careful and detailed instructions.

.


.
Related Thanksgiving Articles
.
I've shared previous articles that are closely related to this Thanksgiving recipes post:
.


.
Why Thanksgiving Recipes?
.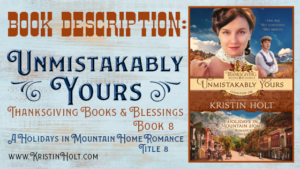 .
Why the interest? My new release, Unmistakably Yours (A Holidays in Mountain Home Romance) is part of the new Thanksgiving Books & Blessings Collection One Series, where all titles, spread throughout the nineteenth century, have the commonality of an important Thanksgiving Dinner scene.
While preparing to write this full-length novel I discovered Thanksgiving menus offered in hotel dining rooms, restaurants, and suggestions for home dining. Such vintage samples provide a glimpse into available foods, preferences, favorites, and the role of the train in making ingredients (like oysters!) available in the west.
Enjoy this short list of sample recipes from late nineteenth century.

.

.
How to Select a Turkey (1892)
.
.


.
Roast Turkey (1882, 1900)
.
.
.


.
Stuffing for a Turkey (1895, 1900)
.
.
.


.
Sweet Potatoes (1900)
.
.


.
Oyster Pie (1879) in Missouri!
.
.


.
Parker House Rolls (1894)
.
.


.
Cranberry Sauce / Jelly (1882, 1895)
.
.
.


.
Plum Pudding (1900)
.
.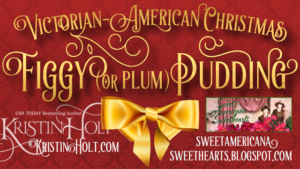 .


.
Pumpkin Pie (1879)
.
.


.
Mince Pies (1895)
.
.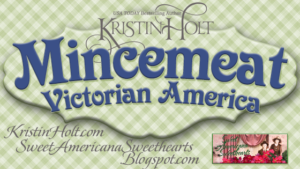 .

.
Related Articles
.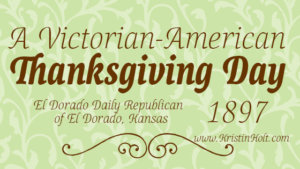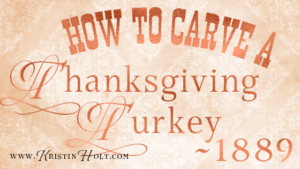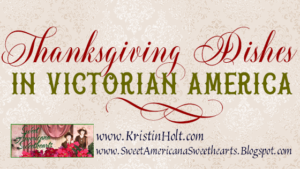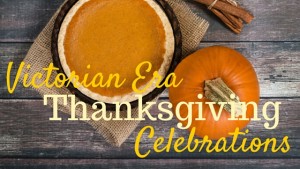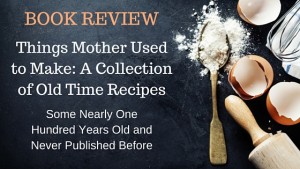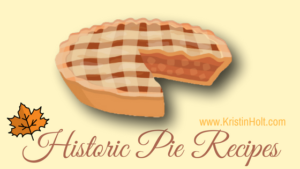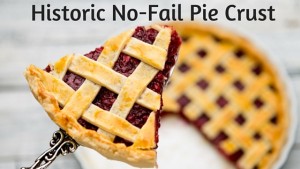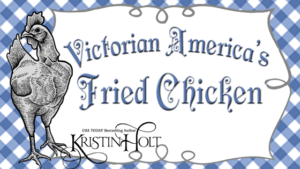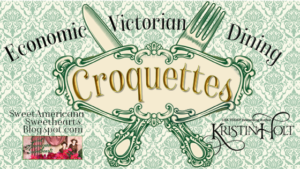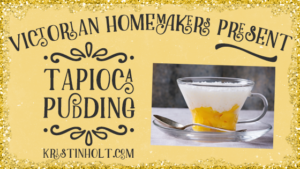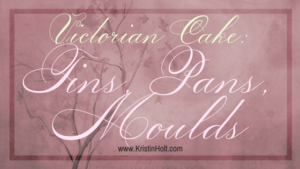 .

.
Updated September 2021
Copyright © 2018 Kristin Holt LC
Victorian America's Thanksgiving Recipes