Detective Clifton R. Wooldridge made a difference on the streets of wicked Chicago at the turn of the century. Some of the 100 fraudulent matrimonial agencies he shut down are captured in newspaper articles from the era (his 20 years of service spanned the turn of the 19th Century). A significant scam involving Mail-Order Brides, mentioning Detective C.R. Wooldridge is featured in this article.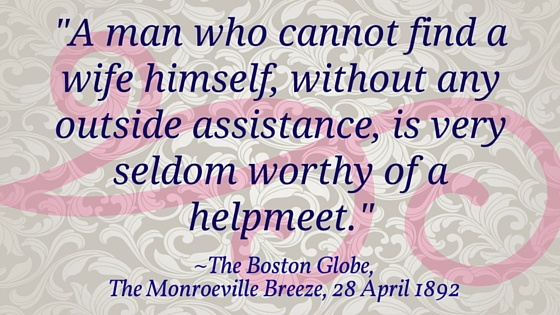 Remember several articles ago (see section header: Pen Pals) when I mentioned an alternative (apparently), advertised in newspapers around the United States, for Standard Corresponding Club? Yep. A Scam. Read on for Detective Wooldridge's handling of that blight on the fair city of Chicago.

This newspaper article, syndicated to New York, reveals the contents of one of Schlosser's fraudulent "stock letters", a "wealthy widow" whose words were sure to captivate a poor man looking to wed a rich woman. If her money didn't tempt him, her romanticism would surely do the trick. This article states $4 came in with each reply, a 2015 equivalent of $111.11.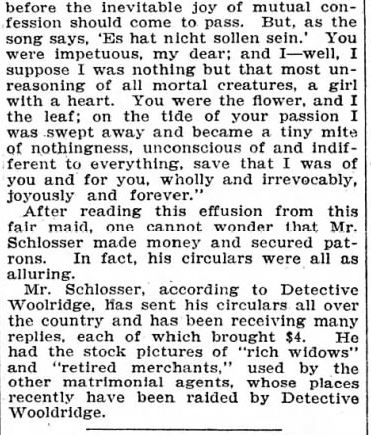 With so many scams present in the United States circa 1900, is it any surprise so many doubted the ability to find a suitable match through any organization?
What are your thoughts? Do you see parallels to today's crime methods? –or today's lonely hearts? 
Please email this link (see the share buttons at the top and bottom of this article) to friends who might find it interesting.

Up next: On February 28th & 29th— Leap Year
19th Century Observation,  Attitudes, Traditions, and Fun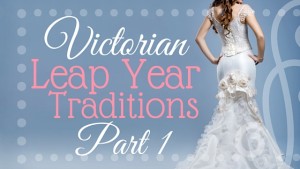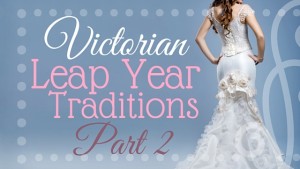 and on March 3: Nineteenth Century Mail-Order Bride SCAMS, part 7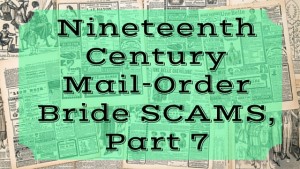 featuring a few short newspaper-recorded circumstances where the ardent were caught wholly unaware by scammers.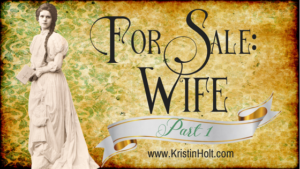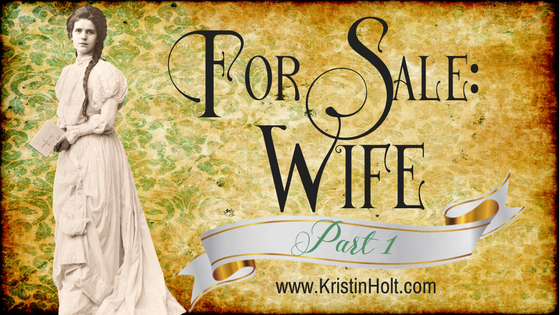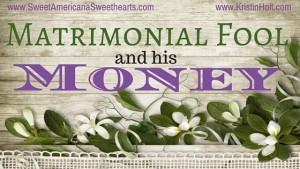 Nineteenth Century Mail-Order Bride SCAMS, Part 1 Nineteenth Century Mail-Order Bride SCAMS, Part 2 Nineteenth Century Mail-Order Bride SCAMS, Part 3 Nineteenth Century Mail-Order Bride SCAMS, Part 4 Nineteenth Century Mail-Order Bride SCAMS, Part 5 Newspaper Brides Vs. Mail-Order Brides (contains advertisement for Chicago's Standard Corresponding Club) Nineteenth Century Mail-Order Bride SCAMS, Part 7 Nineteenth Century Mail-Order Bride SCAMS, Part 8 Nineteenth Century Mail-Order Bride SCAMS, Part 9 Nineteenth Century Mail-Order Bride SCAMS, Part 10 Nineteenth Century Mail-Order Bride SCAMS, Part 11 Nineteenth Century Mail-Order Bride SCAMS, Part 12

Copyright © 2016 Kristin Holt LC