One Chicago Matrimonial Bureau circulated the photograph of one miss to cowboys in the West, inferring an abundance of brides…

Matrimonial Bureau run by a man named Chinn, accused of having purchased pictures of Actors and Actresses and passing them off as candidates for marriage.

40,000 Love Letters: Manager of a Matrimonial Bureau Slides Down a Rope From a Third Story Window (leaving wife and desperately ill baby behind in a closet)

The Salvation Army, in the Cupid Business? 

(A delightful spot of humor!)

ONE CHICAGO MATRIMONIAL BUREAU CIRCULATED THE PHOTOGRAPH OF ONE MISS TO COWBOYS IN THE WEST, INFERRING AN ABUNDANCE OF BRIDES…
In an article reported in World, New York, New York, on 22 July, 1893 (Saturday), page 6, a man named Kirfel used that single photograph of a lovely young woman to entice "cowboys galore" into parting with hard-earned money. A transcript of a paragraph contained within that article follows (along with the difficult-to-read newspaper clipping).
"… There are cowboys galore in Idaho, Wyoming and Montana who would give many more dollars for an opportunity to lift his scalp than they sent him to pay the passage of a beautiful girl whom they would marry on sight. Kirfel and one George Pottier, a Frenchman, established a matrimonial bureau in Chicago and at once began scattering circulars. From their statements it would be inferred that they had a stock of would-be wives on hand which would supply the demands of the wild and woolly West. All negotiations were carried on by pictures of one young lady. The picture carried joy and happiness to the heart of many a bachelor and widower, for the original was a good-looking girl. On the receipt of the specified amount of money the bureau was to ship the girl to the sender. Money poured in thick and fast. The treasury of the bureau waxed to overflowing and the promoters laughed. …"

[Note: The article from which the above paragraph was transcribed immediately follows.]

Matrimonial Bureau run by a man named Chinn, accused of having purchased pictures of Actors and Actresses and passing them off as candidates for marriage.
Horrors of Bachelorhood as Depicted by Head of Matrimonial Bureau Raided Yesterday
…..The following is an extract from the circular which was mailed to prospective patrons of the bureau:

….."Dear reader, whether you do business with us or not, accept our advice and marry. You do not know what it is to live alone, uncared for, unkown, when old age overtakes you. Solitude fills one with horrible agony. Solitude at home by the fireside at night1 It is so profound, so sad. The silence of the room in which one dwells alone, it is not alone silence of the body, but silence about the soul, with neither father nor mother, sister nor brother, wife nor children–nothing but a wasted past to look back upon, nothing but a lonely, painful deathbed, an unwept and unhonored grave in the future. When one is old it is well to have a loving companion and children." [source: St. Louis Post-Dispatch, 30 October, 1902] [sic]
The following is a transcription of the article, with all spellings precisely as they appear in the 1902 newspaper scanned image. Words like "Postoffice", while incorrect in 2016, are historically accurate and 'correct' for 1902.
….."How to be wealthy though married is the problem which thousands of single men and women throughout the country have been trying to solve during the past three weeks, in placing themselves on file in the "suite" of the Verona book Co. and Introduction Bureau at 204 North Third street.

…..This institution until yesterday was managed by a man calling himself W. W. Chinn, who was arrested by Postoffice Inspectors M. G. Price and J. D. Sullivan, and is held to answer to a charge of using the United States mails to defraud.

…..Chinn is suave. He is about 33, and his manners hearty. he refused to tell the inspectors his city address. It is believed that he came from Chicago, much of the circular matter in his office being stamped "Notice! Forwarded From Our Branch Office at Chicago."

…..Chinn has been in the Gay building three weeks, occupying one room, which is known on his letterheads as "Suite 43."

…..His method was to insert matrimonial advertisements in papers, scattered through the United States, as follows:

….."A retired merchant; very wealthy; never married, wants a plain and sensible home-loving wife. Address Mr. Chinn, Gay building, St. Louis."

.

FIVE DOLLARS for an INTRODUCTION

…..In Chinn's office were found sets of circular letters which he mailed, with the aid of four girls in his employ, to those who replied to the advertisements. There was one circular letter to women seeking wealthy husbands and another to men seeking rich wives.

…..In the circulars a "suitable life companion" is glowingly described, "worth at least $79,000," and the applicant is told that he may become a member of the "Introduction bureau" for $5, the fee in every case to be paid before the identity of the prospective life partner is divulged.  To women the fee was $2.

….The postoffice inspectors found more than 200 letters in the morning mail delivery yesterday, addressed to the Chinn institution, many of them containing the fees. The young woman who served as stenographer to Chinn said that the receipts of the office since it was established in St. Louis have been from $85 to $110 daily.

…..Here is a sample answer to the advertisement of "Mr. Chinn," reproduced above. It is from a young woman at Greeley, Colo.

….."I am all you desire in womankind, and am in need of a kind husband, who is willing to take care of and support a good wife. I am not good-looking, nor so homely that a man is ashamed of me, but I believe in pretty is as pretty does.

….."Now, Mr. Chinn, if you are a straight, honest, upright man and mean what you say, I shall be pleased to hear from you."
In an article titled HUSBANDS AND WIVES BY GROSS, also published in the St. Louis Post-Dispatch, but one day earlier, October 29, 1902, Chinn's reply as to why the images of his supposed brides and grooms were not photographs of the actual applicants:
"…this picture represented the person more accurately than he could describe her (or him)."
This same article indicated Chinn was new to St. Louis, having come from Chicago (at the same time Chicago P.D. closed so many fraudulent matrimonial agencies):
…..It is charged by Mr. (Inspector) Dice that Chinn came to St. Louis from Chicago three weeks ago and that he was forced to leave Chicago because of the recent raids made on matrimonial agencies by the police.

…..The authorities claim Chinn is not his proper name, but an alias. thousands of copies of circular letters, flowery and elegant in language, describing the advantages of the bureau, were seized. many of the applications for membership are from youthful and apparently eminently respectable persons. Chinn is said to have advertised in over 100 journals throughout the country. [Source: St. Louis Post-Dispatch, 29 October 1902]
W. W. Chinn was apparently not halted in his matrimonial bureau pursuits, for this advertisement showing him as agent appears in the St Louis Post-Dispatch in February 1903:
Just how frustrated must lawmen have been, then and now, when those who obviously abuse the trust of law-abiding citizens, skirt the edges of the law if not trample all over it, for monetary gain?
40,000 Love Letters: Manager of a Matrimonial Bureau Slides Down a Rope From a Third Story Window (leaving wife and desperately ill baby behind in a closet)
And what if the Salvation Army entered the Cupid Business?

Up Next! Nineteenth Century Mail-Order Bride SCAMS, Part 11, with a series of newspaper articles that detail the arrests, acquittals, alleged bribery, multiple mail-order businesses, alleged income, and probable two-decade reign of fraudulent terror by one Charles H. Rowan of Milwaukee.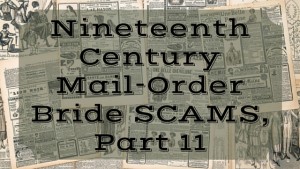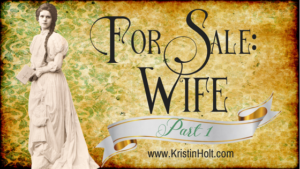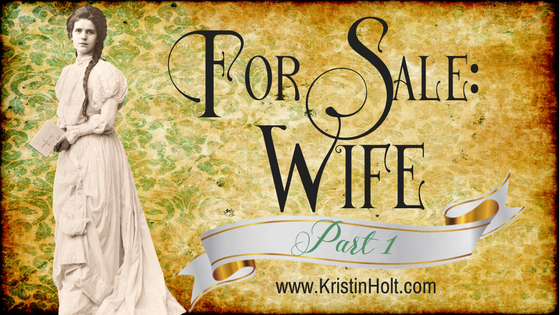 Matrimonial Fool and his Money (on Sweet Americana Sweethearts) Nineteenth Century Mail-Order Bride SCAMS, Part 1 Nineteenth Century Mail-Order Bride SCAMS, Part 2 Nineteenth Century Mail-Order Bride SCAMS, Part 3 Nineteenth Century Mail-Order Bride SCAMS, Part 4 Nineteenth Century Mail-Order Bride SCAMS, Part 5 Nineteenth Century Mail-Order Bride SCAMS, Part 6 Nineteenth Century Mail-Order Bride SCAMS, Part 7 Nineteenth Century Mail-Order Bride SCAMS, Part 8 Nineteenth Century Mail-Order Bride SCAMS, Part 9 Nineteenth Century Mail-Order Bride SCAMS, Part 11 Nineteenth Century Mail-Order Bride SCAMS, Part 12
Copyright © 2016 Kristin Holt LC