I'm forever curious about the American Victorian Era…in particular attitudes about various subjects.
The premise of hair color denoting and most likely indicating character strengths (and weaknesses) reminds me of the Victorian practice of Phrenology.
Phrenology: "the detailed study of the shape and size of the cranium as a supposed indication of character and mental abilities."

This section titled Hair Indicative of Character is a direct quote from Bridgeford's Revised Barber Instructor and Toilet Manual (1904, first published in 1900).
The character of persons is sometimes indicated by the color of the hair.

.

The bilious temperament, black hair and dark skin are generally found associated. These indicates strength of character and sensuality.
Fine hair and dark skin show purity, goodness and strong mind.

.

Stiff, straight and abundant black hair and beard are usually combined with strong, unyielding, straight-forward and rather bluff character.

.

Fine brown hair indicates exquisite sensibility, for a strong will for what is good and right, when unperverted. [sic]

.

If the hair is straight and lies flat on the head, the temperament is melancholly [sic], but you can safely rely on that person, be it man or woman.

.

If the hair is coarse, black and sticks up, there is not much sociability, and much that is stubborn, sour, and harsh in the character.

.

Coarse, red hair indicates much fire and energy, with unusual strength and firmness.

.

Auburn hair, with a florid face, gives purity, intensity, and great capacity for enjoyment or suffering.

.

Fine, silky, pliable, easily dressed hair indicates delicacy, sensibility and goodness.

.

Hasty, impetuous and rash people have crisp, curly hair, but if it is straight and smooth, even and flossy, a warm heart, a clear head and superior talents are indicated.

.

White hair, as a general rule, indicates a good, easy, lazy fellow.

.

The hair, naturally parting in the middle and falling on either side, indicates womanly refinement, purity, and delicacy. When the hair extends and lies on the forehead in rings, it indicates a frank open and genial nature.

.

The light-haired races are the thinkers, the poets and the artists of the world.

.

Dark brown hair combines the two and the most desirable.

.

To sum up:

Black hair indicates physical strength.

White hair, mental vigor.

Red hair, a fiery temperment [sic], passion and devotion.

Wavy hair, a pliable, yielding, accommodating disposition.

Straight, stuck up hair, stubbornness and fidelity.

Very smooth, coarse-lying hair is "Oily Gammon."
.
Apparently "Oily Gammon" was a common turn of phrase in the late 19th century meaning "self-serving" and "ridiculous nonsense suited for simple persons only".
.
Did Mr. Bridgeford, Barber College teacher, accurately connect your hair's nature to your personality traits? (Scroll down and answer, or share your thoughts, in the fields provided, below.)


WHERE TO FIND THIS BOOK:
(Bridgeford's Revised Barber and Toilet Instructor Manual, 1904)


Up next!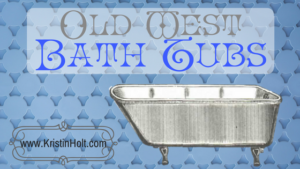 Old West Bath Tubs
then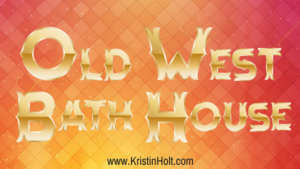 Old West Bath House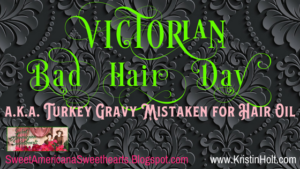 Freckles, Complexions, Cosmetics, and Victorian Beauty ConcoctionsFalse Beauty Spots Styling Ladies' Hair; American 19th Century Victorian Ladies' Hairdressers Victorian Hair Augmentation Victorian Curling Irons L-O-N-G Victorian Hair Old West Barber Shop Old West Barber Shop Haircuts Victorian Era Men's Hairstyles
.
Copyright © 2016 Kristin Holt LC
.
Save
Save