Note to Readers: Courting Miss Cartwright
Note to Readers: Courting Miss Cartwright
.

.
As I shared in my last blog post and the Amazon book description, Courting Miss Cartwright is exactly the same as my contribution to the anthology Cowboys & Calico–(except for the "Dear Reader" in this article), so you needn't buy it twice.

.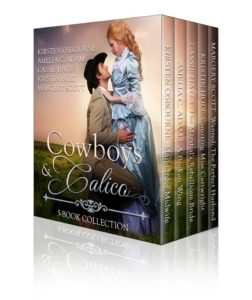 .
When Courting Miss Cartwright appeared in the bestselling western romance anthology Cowboys & Calico (7-30-16 through 10-31-16), I didn't include my "note from the author." This letter containing additional information is present in the single title. I wanted to share these tidbits in a broader circle as it explains why I included a bit of Yiddish, how this book fits into two series, and a bit more about the brief quotes at the beginning of each chapter.

.
Dear Reader,
.
Thank you for visiting 1879 Colorado with me. Mountain Home, Colorado is a fictional town in a very real place. I've built a series (Holidays in Mountain Home) set in this small town leading up to the turn of the century. When determining where this novella would be set, I chose Mountain Home and the residents and locations that would have been there in 1879.
.
This novella is linked to the Holidays in Mountain Home Series without being a numbered volume in that series, because this title, Courting Miss Cartwright, is Book 2 in the Six Brides for Six Gideons series. Book 1 in this series is Gideon's Secondhand Bride. The hero in each book of this series are brothers, all with the surname Gideon. They became separated as children, and by the end of the series, we'll see if and how and when they reconnect.
.
So while this book is officially #2 in the Six Brides for Six Gideons Series, it's also a tie-in to Holidays in Mountain Home. What holiday falls within its pages? Founders' Day! I hope you enjoyed the small-town celebration commemorating the town's original settlement and the sense of community, belonging, and home.
.
More than one newcomer (character) has found the ever-elusive sense of home in Mountain Home, Colorado. I hope you'll give Home for Christmas, Maybe This Christmas, The Marshal;s Surrender, and The Drifter's Proposal a try.
.
A real book titled The Marriage Guide for Young Men: A Manual of Courtship and Marriage by Reverend George W. Hudson, was self-published in 1883 from Ellsworth, Maine. I enjoyed reading about the Victorian American attitudes regarding courtship and marriage, and the advice given to young men seeking to wed and do so with happy results.
.
This public domain book sparked my creative process in plotting this story, and while I do not quote the book, I drew upon the pervasive themes and belief system of the era to ensure historical accuracy for the quotes from my loosely based fictional Victorian self-help book.
.
This fictional book exists only in the quotations cited throughout this novella. The fictional "book" is by my character, The Reverend Cedric Adams Cartwright and is titled: The Gentleman's Guide to Courtship and Marriage. This fictional publication required a date early enough to have guided Rocky Gideon's selection of a well-suited wife (and the mess that well-intentioned advice caused).
.
My inclusion of the Victorian-era quotes was not meant to poke fun but to add a layer of historical truth and better explain Rocky's motivations. I sincerely hope I succeeded.
.
My choice to include a valued Jewish character and a smattering of Yiddish is in nod to my own heritage. While Jews were in the minority in the west (aren't we, everywhere?), pockets of Jewish communities existed historically in Denver, Phoenix, Salt Lake City, etc.
.
As always, I welcome your comments and thoughts. If you enjoyed this book, I'd greatly appreciate a review. Thanks in advance! You're also welcome to contact me through my website. I'd love to hear your thoughts on Courting Miss Cartwright.
.
Warmly,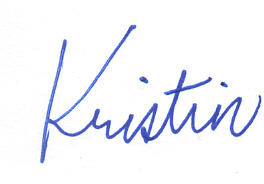 .
.
Read the entire opening scene, the entirety of an early scene, part of a middle scene, and learn lots more about this novella here–
.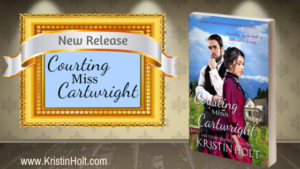 .
Updated March 2022
Copyright © 2016 Kristin Holt LC
Note to Readers: Courting Miss Cartwright

Save