Victorian Fare: Cookies

.
Victorian Fare: Cookies
.
Cookies of all kinds are familiar in the United States in the 21st century… but what about the 19th century?

.
.
Victorian Cookie Recipes
.
Posted from earliest to most modern, within Victorian American newspaper publication. Who knows how old these recipes actually are?

.
.
.
.
.
.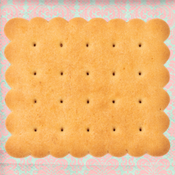 .
.
.
.
.
.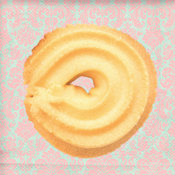 .
.
.
.
.
.
.
.
.
.
.
.
.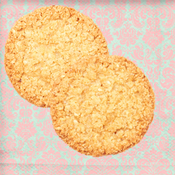 .
.
.
.
.
.
.
.
.

.
Less-than Familiar Baking Ingredients from these Recipes:
.
Pearl Ash:
First chemical leaving. Made from soaking fireplaces ashes in water to make lye, which is good for three things: soap, gun powder, and chemical leavener (a substance that gives baked goods their lightness). First used circa 1780.  [source]
.
Currants:
Currant. There are two distinct fruits which are called currants: (1) the dried zante grape; like a raisin, it is used in baked goods and (2) a fresh tiny berry related to the gooseberry. Currents are black, red, or white. The black ones are used for preserves, syrups and liqueurs; while the red and white berries are for eating out of hand.  [source]

.
Treacle:
Treacle is any uncrystallised syrup made during the refining of sugar. The most common forms of treacle are golden syrup, a pale variety, and a darker variety known as black treacle. Black treacle, or molasses, has a distinctively strong, slightly bitter flavour, and a richer colour than golden syrup.  [source]
.
Candied peel:
Citrus peel, sugared (and often baked or boiled), then dried. Stores well, and can be used as a baking ingredient.
.
Loaf Sugar:
British; noun. 1. A large conical mass of hard refined sugar; sugar loaf, 2. small cube-shaped lumps of this, the form of which is often sold [source]
.
.
.
.
Caraway seeds:
Caraway seeds are widely used in Central and Eastern Europe to flavour rye breads, biscuits, cakes, stews, meat dishes, cheeses, sauerkraut and pickles; they are also often combined with potatoes and apples.  [source]
.
"one half cup soda" ??
I'm guessing this is a method of dissolving a known amount of powdered bicarbonate of soda (baking soda) in water….? Does anyone know differently?

.
Saleratus:
Sodium bicarbonate (or sometimes potassium bicarbonate) as the main ingredient of baking powder. [google dictionary]

"Saleratus was a chalk-like powder used as a chemical leavener to produce carbon dioxide gas in dough. To make it, pearlash had carbonic acid added to it, changing the potassium carbonate in it to potassium bicarbonate. The chemical formula for this is KHCO3. Strength varied by brand. All brands needed something acidic to react with.  [source]
.
Sweet Milk:
Fresh, whole, (cow's) milk that has not yet soured. Different from buttermilk (left over after making butter from cream or mostly cream (and partly whole milk).  [source]
.
Sour Milk:
Raw, whole (cow's) milk that sat too long (consider how poorly 19th century refrigeration worked–when had), and how quickly milk could turn). "Even though sour raw milk is perfectly safe to drink, the sour taste and smell isn't exactly very appealing, not to me anyways. Even though I don't care to drink raw milk that has gone sour, it's perfect for using in baking. That's one of the many benefits of raw milk–when it sours, it's still perfectly useful unlike pasteurized milk which needs to be poured down the drain once it's spoiled." [source]
.
Sour Cream:
"In the nineteenth century, eastern Europeans brought sour cream to America. In 1888, Lithuanian Jewish immigrants Isaac (1864-1945) and Joseph (1859-1930) Breakstone (originally Bergstein) opened a small shop on Manhattan's Lower East Side to sell traditional eastern European dairy products, most notably sour cream, for which the cream was incubated in ten-gallon containers. In 1896, Wolf Axelrod began selling sour cream and pot cheese from a store on Madison Street in New York's Lower East Side, then relocated to a larger facility in Brooklyn. [source: Encyclopedia of Jewish Food]
.
"one-half a grated nutmeg":
Nutmeg refers to the seed or ground spice of several species of the Myristica genus. Myristica fragrans (fragrant nutmeg or true nutmeg) is a dark-leaved, evergreen tree cultivated for two spices derived from its fruit: nutmeg and mace. [source]

Until the mid-19th century, the small island group of the Banda Islands, which are also known under the name "Spice Islands," was the only location of the production of the spices nutmeg and mace in the world. The Banda Islands are situated in the eastern part of Indonesia, in the province of Maluku. [source]

.
.
Nineteenth Century Measurements of Baking Ingredients:
.
tea cup (or cup):
The cup is the common kitchen cup holding half a pint. Those with handles are more convenient. [source: Mrs. Lincoln's Boston Cook Book: What to Do and What Not to Do in Cooking (1884)]
.
Glass (or wine glass):
"Half a gill" [source: The Cook's Own Book (1832)]

4 gills = 1 pint [source: Mrs. Goodfellow's Cookery as it Should Be (1865)] Given one pint is 2 cups (at least today), a gill would be approximately 1/2 cup.
.
tea spoon & table spoon:
The saltspoons, teaspoons, and tablespoons used in those receipts are the silver spoon now in general use. Iron mixing spoons vary much in size, but there is a size which holds exactly the same as a silver tablespoon. Be careful to use this size in measuring.  [source: Mrs. Lincoln's Boston Cook Book: What to Do and What Not to Do in Cooking (1884)]

.
Pound:
Required weighing on a scale. In lieu of a scale, 1 pound of wheat flour is equivalent to one quart. One pound (+ 2 oz.) Indian meal is equivalent to one quart. One pound butter (when soft) is equivalent to one quart. Loaf sugar, when broken, 1 pound is equivalent to one quart. White sugar, powdered, one pound (+1 oz.) is one quart. Best brown sugar, one pound (+2 oz.) is one quart. [source: When is a Cup not a Cup? Demystifying Nineteenth Century Measurements.]
.
Ounce:
(not in these recipes, but I've seen in others:) Butter, about the size of an egg:
.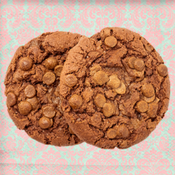 .
Related Posts:
.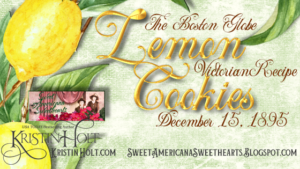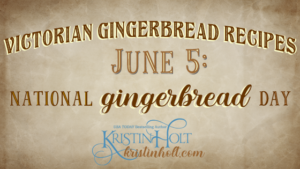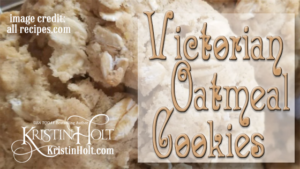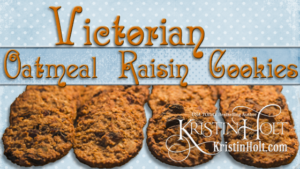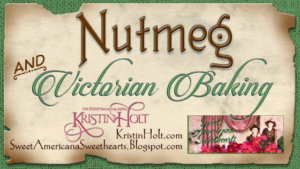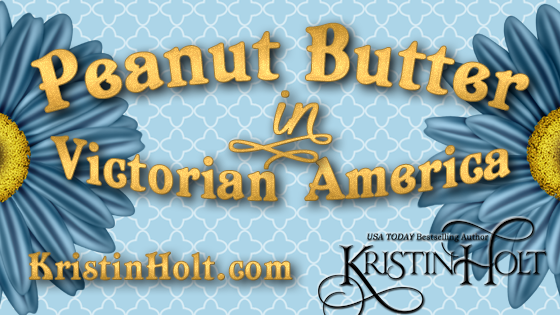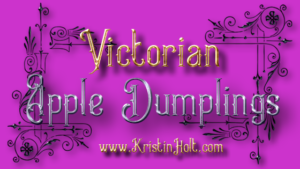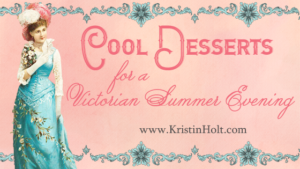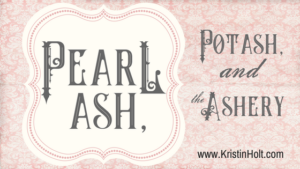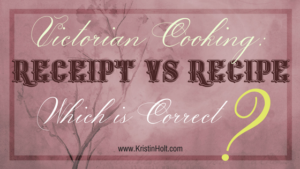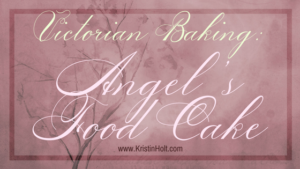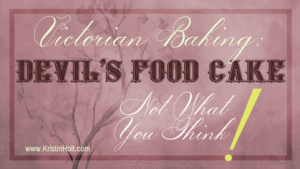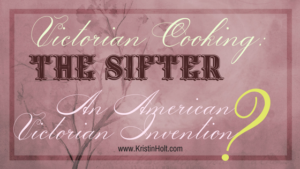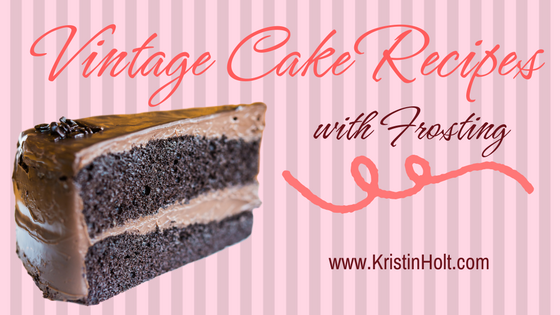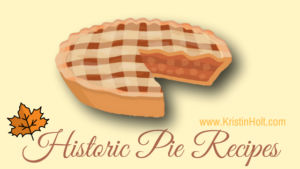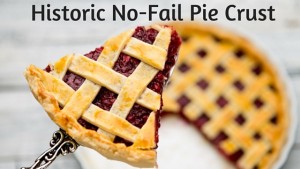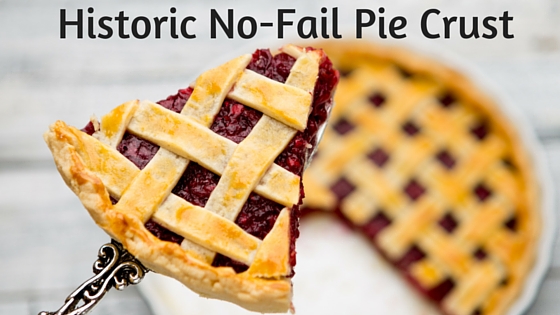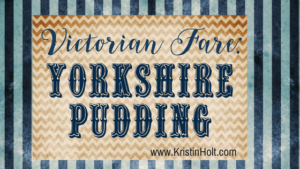 .
Updated August 2022
Copyright © 2017 Kristin Holt LC
Victorian Fare: Cookies