Thanksgiving was well established in the United States by the times most of us think of as "Old West". Pioneers, gold miners, mail-order brides, settlers, land-rushers, silver miners, railroad workers… everyone would've taken the traditions bred into them not only from their countries of origin but from the melting pot of New England– where Thanksgiving feasts had been occurring for 200 years. (See section, below, titled FOR HISTORY BUFFS).
OVER THE RIVER AND THROUGH THE WOOD
Originally a poem (by Lydia Maria Child) published in Flowers for Children, this best-known Thanksgiving song (confused as a Christmas song) is also known as The New-England Boy's Song about Thanksgiving Day. Though most people today sing "grandmother's house we go", the original edition shows Lydia Maria Child wrote "grandfather's house." The tune's writer is unknown.
The original poetry contained twelve stanzas though most of us know only four.
Some speculate the song gravitated toward Christmas because abundant snow (enough for the horses to pull a sleigh through) by late November is rare everywhere but the northern states. Interestingly enough, when this poem was penned, 1844, New England was living through a colder era known as the Little Ice Age. Hence in Ms. Child's experience, growing up near the north shore of Massachusetts, she would have known ample snow in her childhood pre-Thanksgiving winters.

TRADITIONAL THANKSGIVING FARE
I'm fascinated to learn that the same author of this well-known song (over the river and through the wood…. I dare you not to hum along!) is also credited with an 1829 recipe (or "receipts" as they were called then) book entitled "The American Frugal Housewife".
Historic reenactments, such as Sturbridge Village, rely heavily on Ms. Child's book for methods and recipes used in hearths and for roasting on a spit. Living Historians demonstrate cooking methods and employees enjoy the hearth-cooked feast (while visitors may purchase standard fare cooked in a modern kitchen and in keeping with health codes). Employees say there's no comparison (they're the blessed ones). Remick Country Doctor Museum and Farm does something similar each year with a "Hearthside Dinner" near Thanksgiving.
FASCINATING. Why, again, do I live in the Rocky Mountains (where European immigrant history is a very recent 150 years young), cowboys both roamed and roam, and the "Old West" is right outside my window… when history like that is within walking distance of my cousins' homes? I'm moving back to New England. Someday. Until then, I plan to visit several ghost towns the mining boom of the late 19th century left behind. (Stay tuned.)

FOOTBALL AND THANKSGIVING
The pairing is inseparable today. But what about during the Victorian era?
You may be surprised to learn the earliest high school football rivalries took root in the late 19th century in Massachusetts, stemming from games played on thanksgiving. Professional football took root as a Thanksgiving staple during the sport's genesis in the 1890's, and the tradition of Thanksgiving football both at the high school and professional level continues to this day.
THANKSGIVING ENTERTAINMENT
…besides football. And feasting. Or seconds on pumpkin pie.

According to the vast quantity of surviving images of documentation (advertisements, invitations, tickets) available online, it's apparent New Englanders had no shortage of entertainment at Thanksgiving time. I imagine celebrations on western homesteads and ranches were simpler, more humble, more focused on family and gratitude and preparation for winter all squared away.
FOR HISTORY BUFFS
Throughout the 1600s and 1700s, decrees of thanksgiving days for various reasons occurred often. Reasons included the cessation of drought, bountiful harvest, warm weather, military victory– and were days of prayer and focusing gratitude to God. It's really no surprise that several early colonies within North America would set aside a day of thanksgiving associated with a good harvest or arriving safely on terra firma.
The Continental Congress (1774-1789) issued several 'national days of prayer, humiliation, and thanksgiving'. Early presidents (Washington and Adams) continued this practice under the constitution. After the Revolutionary War, George Washington, as President, on October 3, 1789, proclaimed (and created) the first Thanksgiving Day designated by the national government of the United States of America. Washington once again declared a day of Thanksgiving in 1795.
Thomas Jefferson skipped over this tradition, but James Madison renewed the concept in 1814, partly due to resolutions of Congress and partly in acknowledgement of the resolution of the War of 1812. Madison twice in 1815 declared national days of Thanksgiving– but neither was in autumn.
By the time of the Louisiana Purchase, western migration, and the discovery of gold in California, small, local governmental proclamations of specific non-Sabbath days of Thanksgiving (typically Thursdays) were commonplace in the young United States.
The tradition of proclamations issued on Thanksgiving Day continued (often by individual states' governors and seldom coinciding with one another).
President Lincoln proclaimed in 1863 that Thanksgiving would be celebrated nationally, collectively on the last Thursday of November.
Interestingly enough, Washington tried the same thing, but the idea of one national day of celebration apparently didn't stick the first time around. AND it was thought vulgar (pre great depression era) to advertise for Christmas (shopping season) until Thanksgiving was over, hence the movement by FDR to place Thanksgiving squarely on the fourth Thursday of November, to expand the Christmas retail season and hopefully spur the economy.

Some things have changed. Some haven't.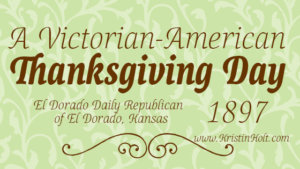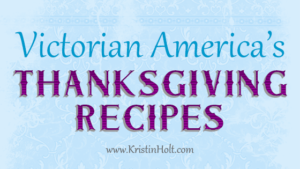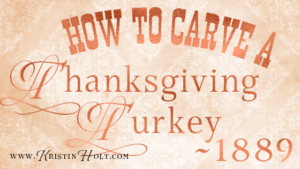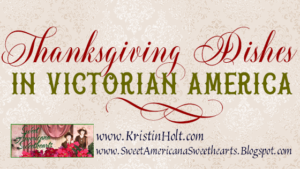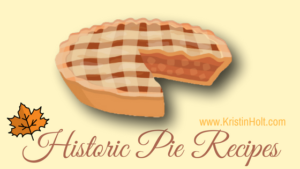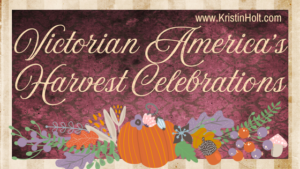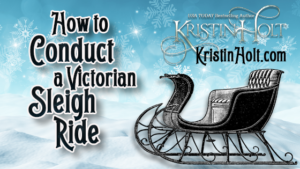 .
Related Articles: Victorian American Holiday Observances

May Day Oddities in the Victorian United States Victorian America and Easter Eggs Victorian Americans and Mardi Gras Victorian Americans Observed Groundhog Day? Victorian Letters to Santa Victorian America Celebrates Halloween Victorian Americans Celebrate Oktoberfest Victorian America Celebrates Labor Day Pioneer Day: Utah's Victorian History Victorian America Celebrates Independence Day Victorian America Observes Flag Day Victorian America Observes Memorial Day Victorian America Observes Mother's Day–on Sweet Americana Sweethearts Victorian America Celebrates Arbor Day Victorian America & April Fool's Day–on Sweet Americana Sweethearts Victorian America Celebrates Easter Victorian America Celebrates St. Patrick's Day Victorian Leap Year Traditions, Part 1 Victorian Leap-Year Traditions, Part 2 Leap Into Love– The Victorian Way: Sweet Americana Sweethearts Victorian Era Valentine's Day Victorian New Year Celebrations, on Sweet Americana Sweethearts A Victorian Menu for New Year's Day, 1892 American Victorian Era Christmas Celebrations Victorian Era Thanksgiving Celebrations Happy Birthday, United States!
Copyright © 2015 Kristin Holt, LC